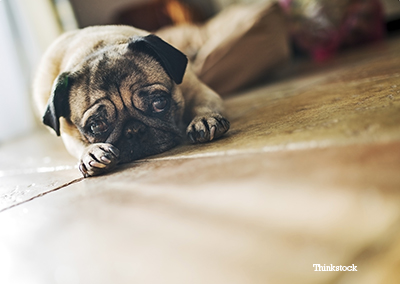 As an emergency critical care specialist, vomiting is the #1 reason why I see dogs presenting to the animal ER. So, if you notice that your dog keeps throwing up, how many times is too many before you decide to bring him in for a veterinary visit?

In a previous blog, Dr. Nancy Kay discussed what you need to understand about your dog's vomiting. She talked about some important observations to note including:
When is a vomiting dog an emergency?
I'll add in a few other rules for vomiting that make it a "must" to bring your dog into the ER (even in the middle of the night!). While this list isn't all-inclusive, if you notice any of these signs, get to a veterinarian stat!
Also get to the veterinarian if:
What if my dog ate something he shouldn't have?
Now, my dog vomits once in a while – maybe every few months. My dog only does so when I give him certain dental treats that he swallows in larger chuncks; this causes occasional rare stomach upset, only to find him vomiting up a part of the treat hours later (typically between 2-5 AM – boo!).

So, if your dog is vomiting, make sure to do the following:
That's because your veterinarian will need to start with a thorough physical exam (focusing especially in the mouth and the abdomen), blood work and/or x-rays. Depending on how severe it is, your vet may recommend fluids under the skin with an anti-vomiting injection (e.g., maropitant) or hospitalization for intravenous fluids and more aggressive therapy.

Remember, when it comes to vomiting, the sooner a medical problem is identified, the sooner we can treat it and often the better (and less expensive) the outcome!
Check out 5 tips to reduce veterinary expenses >>>
If you have any questions or concerns, you should always visit or call your veterinarian -- they are your best resource to ensure the health and well-being of your pets.