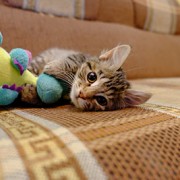 If you're considering bringing a feline companion into your home, and wondering where to look, an animal shelter is a great option. There are so many reasons to adopt from a shelter, but here are 10 of my favorites.

1. You'll save more than one life by adopting a cat
According to the ASPCA, 3.2 million cats can be found in shelters every year and of these, about 860,000 are euthanized annually. Adopting a cat not only helps one of these many animals, looking for a home, but also opens a space for shelters and rescue groups to take in another cat.

2. It makes good financial sense to adopt a cat
For a relatively low fee, you'll take home a cat that is already spayed or neutered, up-to-date on vaccines and microchipped. Many shelters and rescues will also include extras in the adoption fee such as a cat collar, a bag of food or pet insurance.

3. The personality of an adopted cat is known
Cats in many shelters interact with their caretakers and volunteers every day, and these people really get to know their personalities. Particularly with adult cats, you can find a companion with the type of temperament you're looking for. You could find a playful, active cat or a calmer feline who prefers cuddling and a quieter environment.

4. It's good for your mental health to adopt a cat
According to Research Gate, owning a cat, or any pet you adopt from a shelter, has been shown to have positive effects on humans' ability to cope with stress, anxiety, depression and loneliness1. Taking a cat home from a shelter can improve your sense of happiness and general well-being.

5. Adopting a cat is great for your heart!
A recent study found that owning a cat may lead to a reduced risk of death from cardiovascular disease and stroke2. This is an important finding considering the AHA/ASA says, "Stroke is the number 3 cause of death in women and number 4 cause of death in men.

6. Cats improve children's resistance to asthma
According to Clinical & Experimental Allergy, research has found that early exposure to a cat in the home can actually reduce infants' sensitization to the allergens cats produce3. As a result, kids have a reduced chance of developing allergic diseases.

7. There's a wide variety of cats to adopt
You can find any type of cat you want at a shelter, from kittens to seniors, short-haired to long-haired, all sizes and colors. In fact, if you're looking for a specific breed, such as a Siamese, you can contact cat-specific rescue groups to find your new friend.

8. A cat can make your other pets happy
If you have another cat, or a cat-friendly dog, bringing another cat home from a shelter can help reduce feelings of loneliness during the day when you're out. Of course, you will want to ask the shelter to help you "cat test" your dog, and if you have a cat, expect a period of adjustment before the new and current cats feel comfortable together.

9. Cats are perfect for apartment dwellers
If you live in an apartment, condo or other small space, a cat can be an excellent companion because cats don't require lots of room or daily walks like a dog. Cats are generally low maintenance and if you provide them with toys (like cat trees and window rests for enrichment), they make wonderful roommates.

10. Cats are excellent senior companions
Cats, particularly older, calmer cats, can provide loving companionship to older adults. They're easy to care for, and you can find one at a shelter that matches your lifestyle with some helpful advice from the shelter staff and volunteers.

These are just 10 reasons– there are many more! To adopt a cat, you can visit Petfinder and Adopt-a-Pet to find cats in shelters and rescues near you. Your veterinary office or local pet stores can also provide referrals to rescue groups and many hold cat adoptions themselves.
If you have any questions or concerns, you should always visit or call your veterinarian – they are your best resource to ensure the health and well-being of your pets.

Resources
Wells, Deborah. The Effects of Animals on Human Health and Well-Being. (2009). Journal of Social Issues, Vol. 65, No. 3, 2009, pp. 523--543.https://www.researchgate.net/publication/249390276_The_Effects_of_Animal...
Ogechi, I., Snook, K., Davis, B.M. et al. High Blood Press Cardiovasc Prev (2016) 23: 245. doi:10.1007/s40292-016-0156-1
Hesselmar B, Aberg N, Aberg B, Eriksson B, Bjorksten B. (1999) Does early exposure to cat or dog protect against later allergy development? Clinical and Experimental Allergy, Vol 29, 611-617. https://www.ncbi.nlm.nih.gov/pubmed/10231320