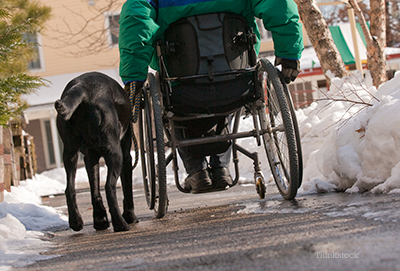 British Journal of Psychology
, found that people who viewed negative news bulletins were more likely to be sadder and anxious. Besides affecting a person's mood, the constant barrage of negative news also dulls a person's emotions. It is refreshing when TV shows focus on the positive rather than the negative. I personally love watching shows like
Secret Millionaire
and
CNN Heroes
. Why? These shows celebrate ordinary people who dedicate their lives to helping others. Rather than feeling sad or anxious, I feel inspired and motivated to do more. So each month I have decided to recognize an amazing, non-profit organization or individual who is doing what they can to make the world a better place. Mary Cortani is just such a person.
K9 Coach Plus
As Ann Krueger Spivack reports
, after spending nine years training dogs and their soldier handlers in the military, Mary started a dog training program called K9 Coach Plus. In 2009 she received a call from an injured Iraq War veteran who was desperately trying to get a service dog to help him with his post traumatic stress disorder (PTSD). He had been on several wait lists for a dog but was getting nowhere.
Some organizations were going to charge him anywhere between $5,000-$35,000 for a service dog. Mary ended up finding the former Marine a service dog and helped train the former Marine and dog. Mary understood how much a dog could help veterans in need, and realized that she could train dogs and match them with the people who needed them. So in January of 2010, she founded Operation Freedom Paws to help match dogs with people who have PTSD, traumatic brain injury, or other psychological, neurologic, physical, or mobility needs.

Operation Freedom Paws is a unique 501(c)3 non-profit service organization located in Santa Clara County, California. Unlike many service dog programs, they do not breed dogs specifically for the program, and they train the dog and recipient together. Operation Freedom Paws gets their service dogs from shelters, rescues and occasionally from the recipients themselves. They train the individual and the matched dog for 48 weeks, ultimately certifying them as a service team. They teach the individuals how to train their dogs. The dogs enable veterans and people with disabilities to regain their independence. They offer security, friendship and help individuals with daily tasks. Another remarkable thing about her organization is that they offer the training free of charge. In addition to training service dogs, the organization offers puppy and obedience classes, as well as boarding and doggie daycare to the public to support the service dog program. The program also hires veterans and former trainees to help. Despite their revenue generating programs, Operation Freedom Paws still relies on donations to help them fund their amazing program. If you would like to help out please click here to go to their website.
If you have any questions or concerns, you should always visit or call your veterinarian -- they are your best resource to ensure the health and well-being of your pets.