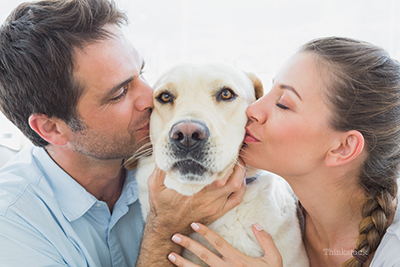 For me, the most endearing thing about 101 Dalmatians is the fact that, without their dogs' involvement, Roger and Anita would likely never have met, fallen in love and married. Two spotted dogs named Pongo and Perdita ignited this animated romance.

When dogs play matchmaker in the real world
A real-life, dog-arranged marriage actually happened for my dear friend Beth and her husband Michael. As the story goes, while hiking in the forest Beth and her adorable, goofy dog, Nimbo became separated. Beth spent hours searching and asking everyone she encountered on the trail if they'd spotted Nimbo. Just as she was about to give up the search, down the trail came a tall, handsome fella named Michael with Nimbo in tow. The rest was history!

Not enough? Here's another story that I love:

As reported by Alexandra Zaslow of the Huffington Post, the love affair between Claire Johnson and Mark Gaffey began at a guide-dog, training course during which their own two guide dogs, Venice and Rodd, couldn't stop playing with one another. After Gaffey and Johnson learned that they only lived a mile apart from one another, they set up some play dates for their two smitten dogs. Before long, the humans were the ones who were smitten. In fact, they are now newlyweds. Referring to herself and Gaffey, Johnson stated, "Much like our two guide dogs, we really are best friends and soul mates."

Tell us your story!
Now it's your turn to tell your story. Who have you met through your dog? Perhaps that person has become your best walking buddy, a wonderful friend or even a life partner? Please comment below and share this article with those special people who are part of your life all because of your dog.
If you have any questions or concerns, you should always visit or call your veterinarian -- they are your best resource to ensure the health and well-being of your pets.