5 Misconceptions That Give Retroviruses the Advantage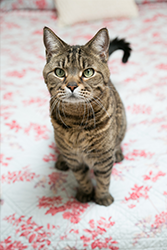 There are multiple retroviruses that can infect cats. While many cat guardians are not familiar with the classification of retrovirus, others may be well aware of the two I will discuss here:
FeLV and FIV are generally fatal infectious diseases in felines; while less common than they were in the past, they are still all-too-frequently reported.
There are several misconceptions about these diseases and resulting confusion about risk factors, symptoms, prognosis and management of the diseases. Simply put, it's easy to mistakenly believe that your cat is protected from FeLV or FIV. By reading the five questions and answers I've included here, you'll better understand how retroviruses sneak up on your cat and how you can prevent them.

Mike has more than 35 years of experience in companion animal veterinary practice and is a valued member of IDEXX's Pet Health Network team since 2013.
You might also be interested in...