Five Things You Need to Know About Heartworm Disease and Your Cat
If you think dogs are the only ones who get heartworm disease, I invite you to reconsider. Although dogs are the more natural host for this disease, cats are also susceptible to heartworm infection. It is estimated by the American Heartworm Society that, in any given community, the incidence of heartworm infection in cats is approximately 5% to 15% percent that of dogs who are not on preventive medication.
While the canine and feline versions of heartworm disease share some similarities, there are some striking differences. I discuss these differences below, within the five feline facts pertaining to heartworm disease.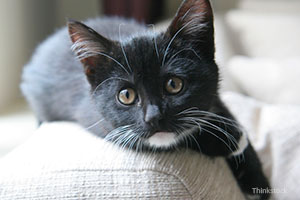 1. The disease targets the lungs
Most dogs with heartworm disease involve many worms and the heart and lungs are the prime targets for damage. In contrast, only one or two worms are typically present in an affected cat1,and the disease takes its primary toll on the lungs. The cat's immune system goes into overdrive in response to immature heartworms located within the lungs and/or fragments of dying, adult heartworms that flow through blood vessels feeding into the lungs. The result of this immune system activity is a whole lot of inflammation that can wreak havoc within the lungs. The acronym HARD (heartworm associated respiratory distress) is used to describe feline lung disease caused by heartworms1.

Nancy has more than 30 years of experience in the veterinary industry and is a board-certified veterinary specialist in internal medicine as well as a valued member of IDEXX's Pet Health Network team since 2014.