What to Expect When Your Cat is Pregnant
(Editor's Note, Dr. Peter Kintzer: Given the large number of homeless dogs available for adoption that would be wonderful pets and companions, very careful thought and serious deliberation should be undertaken before electing to breed your dog. Please consider adoption and click here for more information>)
When it comes to our pets, sometimes we think that since their wild counterparts give birth all alone in their natural habitats, they must just instinctively know what they are doing and not experience any problems at all. However, our cats do need our support while they are pregnant and sometimes they do need our assistance delivering live, healthy kittens. This posting will involve two parts. Here we will outline some key aspects of monitoring the pregnancy itself and later we will consider the actual labor and delivery.
Our cats are not wild
First of all, let's remember that our cats are not wild cats. Even though your cat may still have some of the same survival instincts as a wild cat, she is no longer physically a wild cat. Firstly, she may not be in that peak physical condition that would allow her to successfully chase down a racing impala to procure a meal. Let's face it, her bowl of kibble doesn't move that fast! Secondly, if she is a pure bred cat, she may be more prone to dystocia (or difficult birth). According to Veterinary Record and a survey reported by DA Gunn-Moore and MV Thrusfield, dystocia occurred in only 0.4% of litter in a colony of mixed breed cats compared to 18.2% of litter of Devon Rex cats. Breeds with disproportionately large heads had a higher incidence of dystocia than those without. Thus, if you have a purebred cat, be sure to do your research.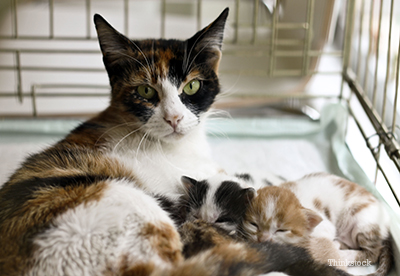 Know your cat's due date
Try to know your cat's due date so you'll have some idea if she becomes overdue. An average gestation period is about 63 days, but sometimes accidents happen and you just don't have any idea breeding occurred. If, however, you are working with your veterinarian from the beginning (and you should be), then hormone tests that time ovulation and/or vaginal cytology that identify stages of the heat cycle can be performed to give you a much more reliable due date to plan around. As the predicted due date draws near it's also helpful to take your cat's rectal

Mike has more than 35 years of experience in companion animal veterinary practice and is a valued member of IDEXX's Pet Health Network team since 2013.
You might also be interested in...