The Sussex Spaniel
Background
The Sussex Spaniel was named after the Sussex county in England where they were used as hunting dogs in the 18th century. They were referenced in an 1803 publication called Sportsmen's Cabinet. The Sussex was bred by Mr. Fuller of Rosehill Park in Hastings (East Sussex, England). He wanted a dog that could work over rough terrain and very dense undergrowth, but could also bark in almost bell-like tones so hunters would know they were on the right track. Fuller crossed Norfolk Spaniels (which are now extinct), Field Spaniels, and English Springer Spaniels.
In 2009 a 10 year old Sussex Spaniel named Stump won best in show at the 133rd Westminster Kennel Club Dog Show, which made him the oldest dog to win this title.
The Sussex Spaniel was recognized by the American Kennel Club in 1884.
Sizing up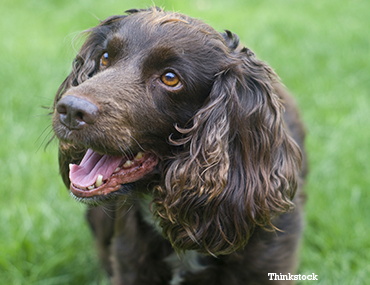 Weight: 35 to 45 lbs.
Height: 13 to 15 inches
Coat: Thick and feathery
Color: Golden, liver
Life expectancy: 10 to 15 years
What's the Sussex Spaniel like?
The Sussex Spaniel is a short, stocky dog who loves to go on walks with his family. The Sussex is also great with kids and other dogs. He is a rather calm dog and this breed is often used as a therapy dog. Though he is very intelligent, he can be rather stubborn when it comes to training so the earlier the better. 
The Sussex is primarily a family pet but they are capable of being a hunting companion because they have an excellent sense of smell. This breed is actually the only spaniel to howl only once a scent is picked up. Understand that his nose is a gateway to the world so keep an eye on him or he will follow his nose anywhere.
The Sussex Spaniel requires a weekly brushing and pay attention to his ears where the hair is longer and thicker.
Health
The Sussex Spaniel is generally a healthy breed but watch for any of the following:
Otitis externa
Pulmonary valve stenosis
Spinal disc herniation  
Takeaway Points
The Sussex Spaniel is excellent with children.
The Sussex Spaniel is calm, cool, and collected. He would make a great therapy dog.
The Sussex Spaniel is often used as a hunting dog for his keen sense of smell.
The Sussex Spaniel walks at a slower pace and is not the best companion for a

Tori has more than 2 years of experience in the pet health industry and is junior editor of IDEXX's Pet Health Network team.
You might also be interested in...