5 Causes of Pet Obesity You Can See Coming
Did you know that October 7th is National Pet Obesity Awareness Day? I wonder why Hallmark hasn't caught on to this official "pet problem awareness" date. Just imagine the creative and comical cards they could create!
You likely already know about the many problems associated with canine obesity. From arthritis to diabetes to heart disease, those extra pounds predispose dogs to a litany of health issues.
What you may not know is that, besides the basics of overfeeding and under-exercising, there are other almost certain predictors of canine obesity. Knowledge of them helps lower the likelihood of chubby Chows and portly Pugs. Here are 5 problems you can avoid to help prevent canine obesity.
1. Choosing the wrong breed
While any type of dog can become obese, certain breeds are particularly predisposed. Perhaps it's an inherited slower metabolism, love of eating, or undeniable cuteness (the cuter the dog, the more treats offered) that renders them more susceptible.
Labrador Retrievers are at the top of the list, both in popularity (consistently the most popular breed in the United States) and the likelihood of obesity. Most Labs love to eat, yet they tend to require surprisingly few calories to maintain a healthy body weight. Do your research before you adopt your next four-legged family member. If you know from past experience that you love to feed more than you love to exercise, choose a "skinnier" breed.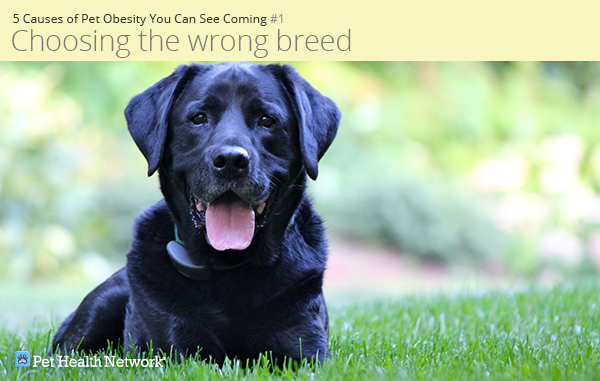 Nancy has more than 30 years of experience in the veterinary industry and is a board-certified veterinary specialist in internal medicine as well as a valued member of IDEXX's Pet Health Network team since 2014.