Dr. Ruth's Top 5 Tips for a Pet Safe 4th of July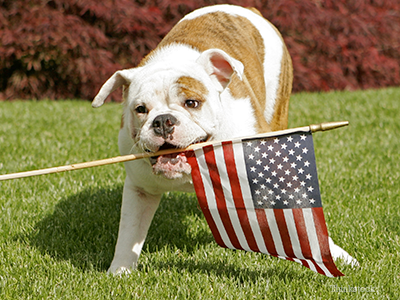 Dr. Ruth MacPete has some tips to help you keep your pet safe and happy this 4th of July. For more from Dr. MacPete, find her on Facebook or at www.drruthpetvet.com!
Every year hundreds of pets throughout the country are lost or injured during 4th of July Celebrations. Here are a few tips you can follow to help keep them safe:
1. Food hazards on the fourth of July
The 4th of July is known for apple pie and BBQ's, but even delicious holiday food can be hazardous for your pets. Keep your pets away from hot BBQ grills that can easily burn them, especially if they are tempted by what's cooking on the grill. Animals should never have access to chocolate or alcohol. Bones, except for those specially treated and intended for canine consumption, should also be avoided. Poultry bones can splinter and get lodged in the gastrointestinal tract. Ham and beef bones can break teeth or cause intestinal obstructions. Though tempting, and always appealing to dogs, you should avoid giving your pet leftovers. Not only can this lead to obesity and encourage the annoying habit of begging, it can cause a pancreatitis attack. Pancreatitis is an inflammation of the pancreas usually caused by fatty foods. It is a serious condition that can be fatal if untreated. 

Ruth has more than 15 years of experience in the veterinary industry as a companion animal veterinarian in private practice. Along with being a writer and media personality, she is also a founding member of IDEXX's Pet Health Network team.