Our Top Pet Health Tips for Autumn
Keep your furry friends healthy and happy this fall!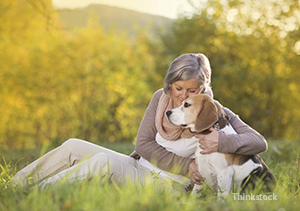 Ahhh, Fall! This time of year means football, crisp air, colorful foliage and even, depending on where you live, a little bit of snow. It's a great time to get outside with your pet; for a dog, there's nothing like a romp in the leaves, while for cats, midday sunbeams have never felt better as the days get shorter and the nights get colder. When it comes to keeping your pet healthy and helping him enjoy fall to the fullest, there are some things to keep in mind. Read on for our top fall pet tips.
#1. Watch out for ticks in fall
Just because fall is here doesn't mean that ticks aren't still lurking. In fact, according to the University of Rhode Island, many species of ticks are active even into the winter and can survive the first frost. Here are some tips to keep your pet tick-free this fall:
Don't let ticks cozy up. Eliminate their favorite environments, such as leaf and garden litter, where ticks can sometimes survive even into winter.
Continue using tick control and repellent products, especially if you spend a lot of time outdoors with your pet enjoying activities like hiking, camping, or hunting.
Ask your veterinarian about regular screening for tick-borne infections. (The Companion Animal Parasite Council recommends screening annually for tick-borne infections.)

Matt has more than 3 years of experience in the pet health industry and is a lifestyle contributor to IDEXX's Pet Health Network team.