Diabetes Mellitus in Dogs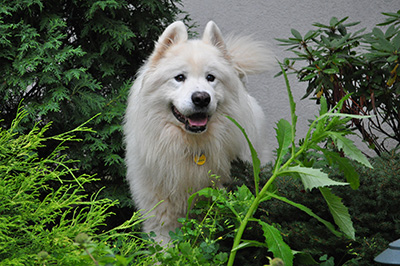 Overview
Diabetes mellitus is a common condition in people and relatively common in dogs, as well. It is a chronic condition in which the body either isn't making enough insulin or isn't responding to the insulin being produced. Insulin, a hormone secreted by the pancreas, helps regulate blood sugar (glucose). Glucose is a by-product of the food our dogs eat; it provides energy to the cells in their bodies.
There are two common types of diabetes mellitus. The first type occurs when your dog's body can't produce enough insulin; this is called type 1 diabetes. The second type of diabetes occurs when the body doesn't respond to insulin; this is called type 2 diabetes. Dogs almost exclusively have type 1 diabetes. Occasionally, diabetes can be secondary to underlying disease, such as severe pancreatitis.
Risk
Diabetes usually affects middle-aged to older dogs, and those who are overweight are also at higher risk. While both male and female dogs can become diabetic, it is much more common in females. Some breeds are at a higher risk as well.
These include:
The breeds that are at higher risk of diabetes in the UK are:
Signs
The most common symptoms of diabetes are increased thirst (polydipsia) and increased urination (polyuria).
Other symptoms include:
Hunger
Weight loss (despite a normal appetite)
Vision loss
Diagnosis
Your veterinarian will perform a thorough physical exam and take a detailed history of your pet's health. The symptoms of diabetes mellitus are very similar to other diseases, such as Cushing's syndrome, liver or kidney disease, Addison's disease, and hypothyroidism. Sometimes, underlying diseases or conditions can cause interim diabetes, and once the primary disease or condition is treated, the diabetes resolves.
Your veterinarian may recommend diagnostic tests to identify the underlying cause of your pet's symptoms. These could include:
Chemistry tests to evaluate kidney, liver, and pancreatic function, as well as sugar levels
A complete blood count (CBC) to rule out blood-related conditions
Pancreas-specific testing to screen for underlying or concurrent pancreatitis 
Electrolyte tests to ensure your pet isn't dehydrated or suffering from an electrolyte imbalance
Urine tests to screen for urinary tract infection and other disease, and to evaluate the ability of the kidneys to concentrate urine
A thyroid test