Transitional Cell Carcinoma (TCC) in Dogs
Cancer
,
Diseases
,
Conditions
,
Dogs
,
Surgery
,
Medications
,
Tumors
,
Bladder
,
Bladder Problems
,
Scottish Terrier
,
Blood
Transitional cell carcinoma (TCC) is the most common cancerous condition affecting the urinary tract of dogs. Scottish Terriers top the list in terms of breed predisposition.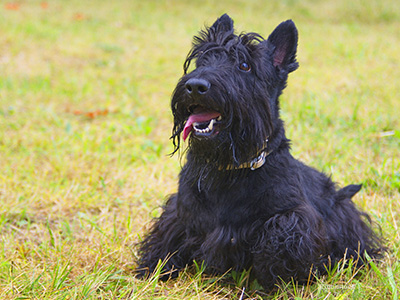 What is TCC?
TCC is a malignant tumor that most commonly grows within the urinary bladder. It also frequents the urethra, the tube-like structure that drains urine from the bladder to the outside world. TCC can also arise within the prostate gland (males), kidneys, or ureters (the long, narrow tubes that transport urine from the kidneys into the bladder).
This cancerous growth has a propensity for growing within the trigone region of the bladder, the anatomical area where urinary tract plumbing is most complicated. It is here that the urethra and ureters connect into the bladder. It's no wonder that TCC commonly causes a dog to experience difficulty urinating and, sometimes, even complete urinary tract obstruction.
What causes TCC?
TCC arises from transitional epithelial cells that line the inner surface of the urinary tract. In addition to growing inward within the lumen of the bladder and/or urethra, the cancer cells invade locally into the walls of these structures. TCC cells also have the ability to metastasize (spread) to lymph nodes and other distant organs.
What are the risk factors of TCC?
Genetic predisposition and environmental factors likely play a role in most cases of TCC. The genetic basis is strongly suspected because Scottish Terriers have as much as an 18-20 fold higher risk of this disease, reports Purdue.edu. Other predisposed breeds include, Shetland Sheepdogs, Beagles, West Highland White Terriers, and Wire Hair Fox Terriers.
Environmental factors that have been incriminated as risk factors for TCC include exposure to older generation pesticides and lawn herbicides. A study comparing 83 Scottish Terriers with TCC and 83 similarly aged, normal Scotties discovered that the group with cancer had greater exposure to lawns and gardens treated with insecticides and herbicides or herbicides alone. The effect of lawn and garden chemicals on other breeds has not yet been studied1.
Smoking is the number one cause of TCC in people, according to cancernetwork.com. It is not known if exposure to second hand smoke contributes to the occurrence of TCC in dogs.

Nancy has more than 30 years of experience in the veterinary industry and is a board-certified veterinary specialist in internal medicine as well as a valued member of IDEXX's Pet Health Network team since 2014.
You might also be interested in...