Abandoned and Abused, a Puppy is Saved by a Heroic Pit Bull
We're taking a look at 13 of the luckiest, most inspiring pets of 2013. We'll bring you stories of two new pets every weekday from now through the end of the year - then ask you to pick your favorite!
#13
A heroic pit bull-type dog recently rescued an abused and abandoned puppy in Gresham, Oregon, reported Life With Dogs. KATU news interviewed the man whose pit bull-type dog, Goofy, found the cold and lonely pup. "He was covered in feces and urine," said Nestor Salazar. The puppy's mouth was wired shut and his two front legs were broken. But thanks to Goofy and Nestor, the puppy has been treated for his injuries and is resting safely.
According to Nestor, he had taken Goofy for a walk when the pit bull "started looking for something" and pulled him towards a sewer ditch. It was there that Nestor found a pit bull mix puppy, only a few  months old. "It was awful. No dog should ever have to be treated like that," says Nestor of the puppy's conditions. Nestor cleaned the puppy, removed the wire, and got him to Multnomah County Animal Shelter where he received surgery for the broken legs and is now recovering. "I'd like to turn it into a Cinderella story and keep him myself," Nestor told KATU News. (Follow this link to watch the video.)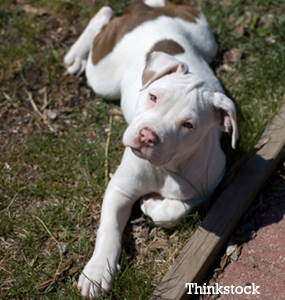 The story is a great example of the heroic nature of dogs, especially pit bulls which often get a bad rap in the media. It's likely that the abandoned pup would not have survived the night had it not been for Goofy and Nestor. Nestor takes very little praise for the rescue (despite his substantial role), insisting that Goofy, "deserves all the credit."
Police are asking individuals to come forward with any information about the puppy's origins. Find out how to report information on Life With Dogs.
Of course, all of us play a role in helping prevent and intervene in animal abuse cases. If you suspect an animal is being abused, check out the ASPCA's Top 10 Tips for Reporting Animal Cruelty and ask your veterinarian how to contact your local animal cruelty investigators.

Jason has over 6 years of experience in the pet health industry and is managing editor of IDEXX's Pet Health Network team.
Opinions expressed are those of the writer:
The opinions and views expressed in this post are those of the author's and do not necessarily represent the beliefs, policies or positions of all veterinarians, Pet Health Network, IDEXX Laboratories, Inc. or its affiliates and partner companies.