Couple Braves Avalanche to Save Sick Cat
Tori Houle, PHN Contributor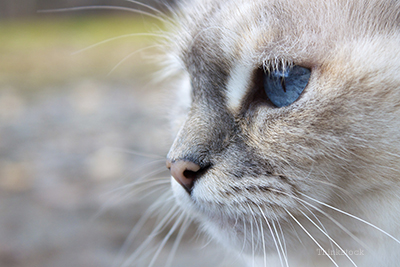 What's a pet parent to do when their cat needs immediate medical attention and the only road leading to a veterinary clinic is closed due to dangerous avalanches?
Well, according to Laurel Andrews of The Alaska Dispatch, the decision was easy for Kristina Clark. She and her boyfriend, Donney Carlson, managed to trek 42 miles through Thompson Pass to get her cat, Ninja, to her veterinary clinic in Valdez, Alaska. Although a series of avalanches had made it impossible for a vehicle to get through, that didn't stop Clark.
It became clear to Clark that Ninja had a blocked urinary tract, which prevents urination and can eventually lead to kidney failure. If Ninja had been left untreated he would have gone into renal failure within 24-48 hours and continue to deteriorate. Clark had no choice but press her luck against the avalanches to get to the Valdez Veterinary clinic because they were the only clinic that didn't need money up front.
We reached out to Dr. Kathryn and Kelly Hawkins, DVM and asked what they thought after getting the call from Clark. "She called us late on Friday night and described the symptoms. I told her that Ninja needed treatment if the signs continued into the next day. She mentioned at the time that she would just walk over the avalanche and I thought she was just kidding."
Clark said that she knew about the avalanches blocking the way but felt she had no other choice. "We had to do something and that was the only option," she said, and after calling the Valdez police dispatch and being told she wouldn't be stopped she decided to take her chances, she recalled in an interview with Karen Harrison Binette of Life With Cats
However, as reported by Lee Revis of The Valdez Star, Clark and Carlson were arrested that night by an Alaska State Trooper as they crossed the highway. While Ninja was sent to the Valdez Animal Shelter, Clark and Carlson spent the night in jail facing misdemeanor charges for obstruction of highways and disorderly conduct.
It turned out to be worth it.
Dr. Kelly Hawkins of Valdez Veterinary Clinic got a pretty interesting call that night – while most use their one phone call to ask for bail money, Clark used hers to alert the vet that Ninja had been dropped off at the animal shelter. Hawkins immediately retrieved
Opinions expressed are those of the writer:
The opinions and views expressed in this post are those of the author's and do not necessarily represent the beliefs, policies or positions of all veterinarians, Pet Health Network, IDEXX Laboratories, Inc. or its affiliates and partner companies.