Hero Bunnies save a Family from Fire
We're taking a look at 13 of the luckiest, most inspiring pets of 2013. We'll bring you stories of two new pets every weekday from now through the end of the year - then ask you to pick your favorite!
#8
A family in Tucson is grateful to be alive after their bunnies saved them from a house fire, reports Barbara Grijalva of CBS5AZ News. Nicole Ochotorena, her husband Alex and their children (sources differ as to how many children were home at the time) had already gone to sleep when their Crock-pot's® electrical cord caught fire. According to CBS 5, none of the fire alarms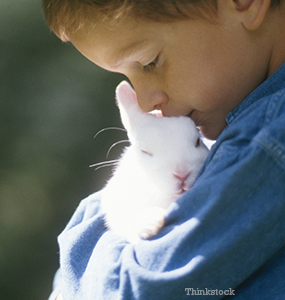 went off and the family would have kept on sleeping had it not been for the ruckus raised by rabbits Bun Bun and Promise. "If you've ever watched like Bambi— Thumper, how he thumped with his back paw? That's what they kept doing. And Bun Bun and Promise, they were just back and forth, back and forth, back and forth," said Nicole. Once she noticed the fire Nicole called her husband and the near tragedy was averted. The bunnies are getting their favorite treat this holiday – carrots!
This story is a prime example of the intelligence of pets. Bun Bun and Promise are remarkable animals who sensed the impending danger and roused the family. They deserve a hero's praise this holiday season.
Click here for #9 <<OR>> Click here for #7

Jason has over 6 years of experience in the pet health industry and is managing editor of IDEXX's Pet Health Network team.
Opinions expressed are those of the writer:
The opinions and views expressed in this post are those of the author's and do not necessarily represent the beliefs, policies or positions of all veterinarians, Pet Health Network, IDEXX Laboratories, Inc. or its affiliates and partner companies.