Pilots and Paws: Working to Give Animals the Loving Home They Deserve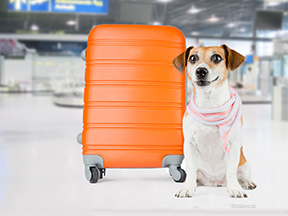 It's a bird! It's a plane! No, it's Pilots and Paws, a non-profit airborne rescue mission which has flown about 70,000 animals in just 6 years. And as NBC's Kevin Tibbles reports, Pilots and Paws offers no ordinary flight experience: "It is an air lift like no other, where passengers pass on the peanuts and pretzels and are much more content with a hug and a handful of kibble." 
All arranged by volunteers, Pilots and Paws help abandoned dogs from shelters where they would have been euthanized and fly them to new loving homes. David Crouch, a volunteer says, "It's great seeing the wagging tails when you get off the plane. Maybe they're going to a home or to a shelter." There are now up to 4,000 volunteer pilots helping out with this amazing organization.
Among the volunteer pilots is Jeff Bennett, who has been involved since day one. Bennett explains, "My total right now is up to 2,647 dogs." That's over 2500 dogs who can now breathe easy knowing they are safe.
Stacy Medina from Amazing Mutts Puppy Rescue states, "If anybody has any inkling of what rescue is about, they need to come and see an arrival to know that overwhelming feeling." And what's better than seeing that wagging tail?
To learn more or if you'd like to make a donation, check out the Pilots and Paws website.

Tori has more than 2 years of experience in the pet health industry and is junior editor of IDEXX's Pet Health Network team.
Opinions expressed are those of the writer:
The opinions and views expressed in this post are those of the author's and do not necessarily represent the beliefs, policies or positions of all veterinarians, Pet Health Network, IDEXX Laboratories, Inc. or its affiliates and partner companies.