Salmonella Sparks More Recalls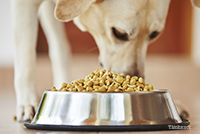 According to NBC New York, pet food company "Nature's Variety" is pulling three different sized packages of their 'Instinct Raw Chicken Formula' products due to possible Salmonella contamination.
The products involved are:
Instinct Raw Chicken Formula Bites for Dogs 4lb, UPC #769949611431
Instinct Raw Chicken Formula Bites for Dogs 7lb, UPC #769949611448
Instinct Raw Chicken Formula Patties for Dogs 6lb, UPC #769949611486
The "Best by" date is 04/27/16 for all three packages and can be found on the back below the seal.
If you are concerned you may have purchased one of the recalled Nature's Variety products, visit the company's website for more information.
Click here to learn more about Salmonella and the dangerous >>
 If you have any questions or concerns, you should always visit or call your veterinarian -- they are your best resource to ensure the health and well-being of your pets.

Tori has more than 2 years of experience in the pet health industry and is junior editor of IDEXX's Pet Health Network team.
Opinions expressed are those of the writer:
The opinions and views expressed in this post are those of the author's and do not necessarily represent the beliefs, policies or positions of all veterinarians, Pet Health Network, IDEXX Laboratories, Inc. or its affiliates and partner companies.