Dog and Baby Compete to Say "Mama" First, A Veterinarian Weighs In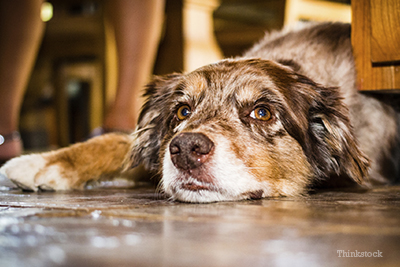 A recent survey indicates that the average parent will post almost 1,000 photos of their child online before he/she turns five. It is not surprising then that the internet is chockablock full of adorable images of adorable children, adorable pets, and the often even more adorable combination of children and pets. But these videos and photos often reveal situations that put those of us who work in the pet industry ill-at-ease. At best, everyone is ok at the end of the video and there's a teachable moment that we talk about. At worst, a child, pet or other person might be hurt – badly.
Dog + Baby + Food
One of the latest such videos currently trending features a small child and what appears to be an Australian Shepherd next to a couch where a sitting adult tries to entice the baby to say "mama" by offering a forkful of take-out food. The child does not cooperate but the clearly excited, focused, and very talented dog does – managing a very close approximation to the word "mama" over and over again while anxiously eyeing the fork. Much chuckling ensues especially at the end of the clip when the baby actually reaches out to pet, slap, or push (who knows which?) the dog away.
This particular interaction apparently works out well, without incident, in the end. And there is even a follow-up video to assure the watcher that the frustrated dog, Patch, does get his reward which is (to the owner's credit) apparently dog treats not any of the tempting take-out food. The second video also ends with the baby reaching for the dog's face and everyone laughing heartily. But as is often the case, these videos also provide a teachable moment or two.
Teaching Children Respectful Handling To Keep Everyone Safe
First, the easy one. In both clips, the child gets the most laughs for reaching for the dog's face. I don't know this dog. Clearly he seems like a nice enough chap: excited but controlled, eager but not pushy, and at no time at all aggressive. Great breed. Apparently, great dog. But I would caution people to always try to be aware of what they are teaching not only their pets but their children in the course of the interactions between the two of them.

Mike has more than 35 years of experience in companion animal veterinary practice and is a valued member of IDEXX's Pet Health Network team since 2013.
Opinions expressed are those of the writer:
The opinions and views expressed in this post are those of the author's and do not necessarily represent the beliefs, policies or positions of all veterinarians, Pet Health Network, IDEXX Laboratories, Inc. or its affiliates and partner companies.