Global Pet Expo 2013: This Year's Hottest Bird and Exotic Products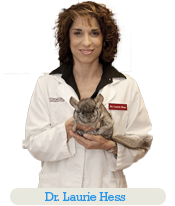 Dr. Laurie Hess is our resident exotics expert and contributes regularly on the Pet Health Network. For more from Dr. Hess, find her on Facebook!

Think only dogs and cats will be spoiled with cool new pet products this year? Think again! As I saw last week at perhaps the largest pet product tradeshow in the US – Global Pet Expo – in Orlando, Florida, there is a lot of neat stuff out there not only for feline and canine friends, but also for birds and exotic pets. At this truly gargantuan show (that spans 11 football fields!), among all the cat and dog leashes, collars, pet beds, tick repellents, and literally thousands of new animal drugs, there were a handful of new and different items that really caught my eye.

1. The Reptile Lunch Box and Vita-Bugs
It's easier to feed your reptile with these pre-packaged containers of insects for reptiles from Timberline Fisheries. Marketed as "fast food for reptiles," the Reptile Lunch Box is a cute little plastic box looks just like a tub for berries you'd find in the supermarket, but instead of being filled with berries, it contains 2 dozen crickets and a gut-loaded (vitamin-enriched) food source to sustain them until it's time to feed them to your pet.  On the market already, the Reptile Lunch Box makes feeding your reptile easy and neat, without the need for adding nutrients to the insects before you feed them; plus the little box keeps all the insects contained and less likely to escape into your house. Vita-Bugs, coming later this year, are also small, self-contained boxes of crickets, mealworms, or superworms – all common food sources for reptile species – that have been raised on a new, patent-pending vitamin and nutrient enriched feed that provides complete nutrition to the insects so that it can be passed along to your pet, without the need for further gut-loading the insects. Never before has feeding your reptile been so tidy and simple!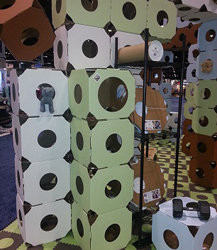 2. Catty stacks
The modular climbing boxes from Cat House System that were originally designed for cats are actually great for ferrets, rabbits, and rodents, too. These simple boxes clip together and stack both vertically and horizontally to provide hours of fun for your pets as they hop in and out of the portals. Plus, the boxes are made of corrugated cardboard, so if your pet decides

Laurie has more than 15 years of experience in the veterinary industry and is a board-certified bird specialist and exotic animal veterinarian as well as a founding member of IDEXX's Pet Health Network team.
Opinions expressed are those of the writer:
The opinions and views expressed in this post are those of the author's and do not necessarily represent the beliefs, policies or positions of all veterinarians, Pet Health Network, IDEXX Laboratories, Inc. or its affiliates and partner companies.