The Top 5 Reasons to Adopt from a Shelter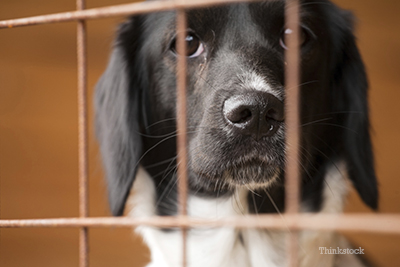 Are you thinking about adding a new pet to your household? Be sure to check out your local animal shelters and rescue groups. Unfortunately, many people go to pet stores or breeders and overlook shelters and rescue groups. Not everyone realizes that shelters and rescue groups are a great place to find a pet. Here are my top 5 reasons to adopt from a shelter or rescue group.
1. Loving shelter pets are being euthanized every day
Our country has a serious pet overpopulation problem. According to the Humane Society of the United States (HSUS), "6 to 8 million animals end up in shelters in the United States every year." Unfortunately, not all animals that enter shelters find a home. It is estimated that 2.7 million healthy shelter pets are not adopted and 3-4 million animals are still being euthanized each year. Sadly, the HSUS website reports that only about 30% of pets in homes come from shelters or rescues. This means that there is room for more people to adopt from shelters and help with our country's pet overpopulation problem. Shelters and rescue groups are full of deserving animals in need of a loving home. Give these animals a chance and be part of the solution by looking for your next pet at a shelter or rescue group.
2. Shelters have outstanding selection
Have you ever been to a pet store with over one hundred animals? I didn't think so. While the number of animals in shelters reflects the seriousness of our pet overpopulation problem, it also means you're more likely to find the perfect pet. Shelters have animals of all types, breeds, ages and sexes. They have mixed-breeds of every shape, size, coat, and personality. Shelters also have purebred cats and dogs, from Abyssinians to Yorkies (there are no breeds that start with Z), and everything in between. With so many animals to choose from, you can find the perfect cat to cuddle, or your ideal canine jogging buddy.
3. Shelters have great values
Did you know that by adopting your new pet from a shelter or rescue group, you could save a lot of money? While this shouldn't be your primary motivation, it's like getting reward miles for doing a good deed. The adoption fee for dogs and cats at shelters is considerably less than most pet stores or breeders. Some shelters even

Ruth has more than 15 years of experience in the veterinary industry as a companion animal veterinarian in private practice. Along with being a writer and media personality, she is also a founding member of IDEXX's Pet Health Network team.
Opinions expressed are those of the writer:
The opinions and views expressed in this post are those of the author's and do not necessarily represent the beliefs, policies or positions of all veterinarians, Pet Health Network, IDEXX Laboratories, Inc. or its affiliates and partner companies.