Dr. Jeff Werber, DVM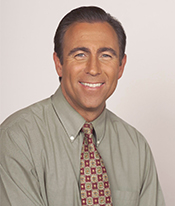 Dr. Jeff Werber is an Emmy Award-winning, nationally renowned veterinarian and former president of the Association of Veterinary Communicators. He also serves on the advisory boards of Veterinary Economics magazine and Last Chance for Animals, and recently completed his term as a member of the Legislative Committee of the California Veterinary Medical Association.
Werber earned his undergraduate degree in Zoology from University of California-Berkeley in 1976 and his Veterinary degree at the University of California-Davis in 1984. He owns the prestigious AAHA-accredited Century Veterinary Group in Los Angeles, a Veterinary Economics Merit Design Award-winning hospital. He resides in Los Angeles with his family and his 11 pets (5 dogs and 6 cats).
Werber began his media career in 1987 as a segment contributor on Hour Magazine, then became the resident veterinarian for ABC's "Home Show" for five years. In 1996 he hosted his own show, "Petcetera," on Discovery's Animal Planet Channel for which he was nominated for a Cable ACE Award, and last year served as the host of "Lassie's Pet Vet," which aired nationally on PBS.
In September of 1997, Werber became the pet expert for CBS News in Los Angeles, where he was awarded an Emmy for his pet health reporting. During this time he was also the veterinary correspondent for The Early Show on CBS and a contributor to two other shows, Great Day America and The Parenting Table. He has appeared a number of times on "The Rachael Ray Show," and is currently a veterinary expert to "The Dr. Oz Show," CNN, and E! Entertainment, most recently on "Insanely Pampered Hollywood Pets," "Pit Boss" and "House Husbands of Hollywood." He also hosts "Let's Talk Pets" with Dr. Jeff, a weekly call-in radio show on KABC Talk Radio in Los Angeles.
In 2001, Werber launched his own premium pet product line, jeffwerberpets, which was highlighted as a "Best New Product" in Instyle magazine, and is featured in many pet boutiques and pet stores across the country. He also consults to, and is the veterinary authority for, United Pet Group's Pro-Sense pet product lines.
Werber is a frequent lecturer at many of the nation's top veterinary conferences, and is a contributor for Veterinary Economics magazine. In his spare time he's also a spokesperson for a few national pharmaceutical companies, and is a host and segment writer for the Pet Care Television Network.
Posts by Dr. Jeff Werber, DVM
Dog Behavior

7 Simple Safety Tips Before You Buy Your Next New Dog Toy

Dogs love playing with toys and we love watching them, but are those toys always safe. Learn how you can avoid toy dangers.

Read More >
Cat Checkups & Preventive Care

Cat Insurance is a Great Idea: Here's Why

You might not have heard of cat insurance, but it's a great idea! Learn why Dr. Werber wouldn't leave his cats without insurance.

Read More >
My Dog's Veterinarian

Beware the "Experts"

Animal care information should only come from given from your veterinarian. The internet is not an expert.

Read More >
Dog Diet & Nutrition

Obesity, Pets, and Nutrition

It has been estimated that up to 50% of dogs and cats in this country are overweight or, worse yet, obese.

Read More >
End-of-Life Support & Grieving Dogs

The "New" Pet: When Is The Right Time?

When discussing the idea of getting another pet after the loss of a former one, I've heard it all. Nothing surprises me any more. The sentiments are usually those of "not now," and I can't tell you how many times I've heard "never again!"

Read More >
End-of-Life Support & Grieving Dogs

When Is The Right Time To Say Goodbye?

When is the right time? How do we really know? Is he suffering? Uncomfortable? In pain? The truth is, we often don't really know—and, unfortunately, we can't ask him.

Read More >
End-of-Life Support & Grieving Dogs

Euthanasia: The Process and the Particulars

Our attitudes have changed quite a bit since, and now, I believe, most pet parents choose to stay with their pets until they pass on. However, this is a highly personal decision.

Read More >
Dog Checkups & Preventive Care

Spring Exercise and Safety

As temperatures start to rise this spring, it's important to ease pets into exercise and outdoor playtime after a long, sedentary winter.

Read More >
Dog Checkups & Preventive Care

That Microchip Just Might Save Your Pet's Life!

An identification tag isn't always enough to keep pets safe when they run away. Microchips are safe, permanent, and can save lives.

Read More >
Cat Checkups & Preventive Care

What's Up, Cat Owners?

There are more cats than dogs in the U.S., but far fewer cats than dogs receive veterinary care. Preventive care is more important than ever.

Read More >
Pages
Connect with friends
Checkout videos and articles you might like, and see what your friends are sharing.