Did you know that some authorities feel that 1 out of every 100 dogs that reaches 12 years of age develops diabetes mellitus1?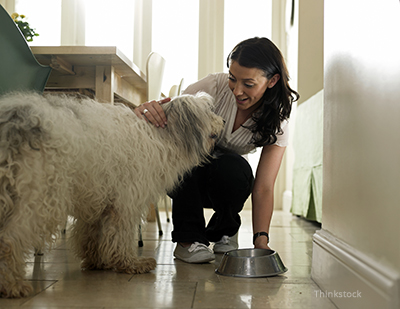 Diabetes mellitus (DM) is a hormonal problem where the pancreas fails to produce enough insulin, the hormone that helps push sugar ("glucose") into the body's cells. Without the insulin, the body's cells are starving for sugar; unfortunately, this then stimulates the body to produce more and more sugar (in an attempt to feed the cells). That's why your dog's blood sugar is so high (what we call a "hyperglycemia") with diabetes mellitus.

Without insulin, the sugar can't get into the cells; hence, why you need to give insulin to your dog with a tiny syringe twice a day. In dogs, this is a disease that can be costly to treat and requires twice-a-day insulin along with frequent veterinary visits for the rest of your dog's life.

So how do you know if your dog has diabetes? Clinical signs of diabetes mellitus in dogs include:
Dilute urine
Muscle wasting
Ravenous appetite
Frequent urinary tract infections
Weakness
Unkempt or poor hair coat
Blindness secondary to cataracts
Neuropathies (nerve problems)
As your dog gets older, it's worth talking to your veterinarian about doing routine blood work to make sure your dog is healthy. This blood work will help rule out kidney and liver problems, anemia, infections, electrolyte problems and diabetes mellitus. The sooner you recognize the clinical signs, the sooner your dog can be treated with insulin and the less complications we see as a result.

So, if you notice any of the signs above, get to a veterinarian right away. Now, continue on for 5 important reasons to test your dog for diabetes:


1. Your dog will live longer
Diabetes mellitus can shorten the lifespan of your dog, as secondary complications and infections can occur. With diabetes, the body is immunosuppressed and more likely to develop diabetic complications which cause long term harm to your dog.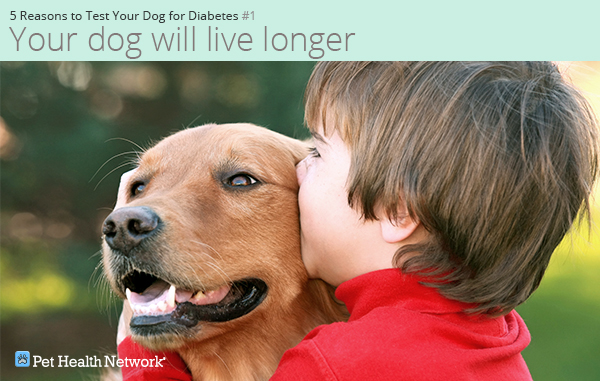 2. Your dog will be able to see
Did you know that the majority of dogs with diabetes eventually go blind from
cataracts
? Even in well-controlled diabetic dogs, the excess sugar in the body can have secondary effects on the lens of the eye; it causes more water to influx into the lens, which disrupts the clearness of the lens. As a result, cataract formation occurs, resulting in eventual blindness and secondary
inflammation
in both eyes. While cataract
surgery
can (and ideally, should) be performed, it can be costly.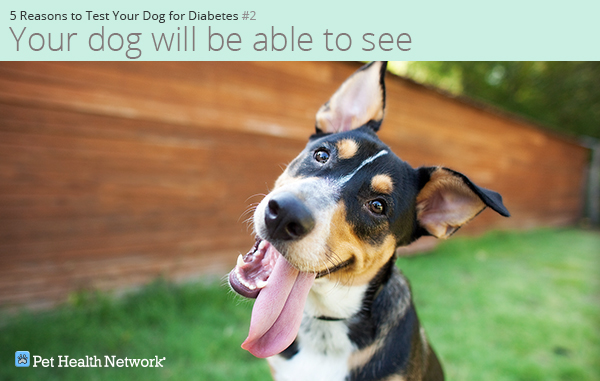 3. You'll save a lot of money
Treatment for diabetes mellitus includes twice-a-day insulin treatment, insulin syringes, prescription
diets
, and frequent veterinary trips for blood tests. Also, as diabetic dogs can't go without their insulin, it may mean hiring
house sitters or pet sitters
to treat your pet while you are on vacation.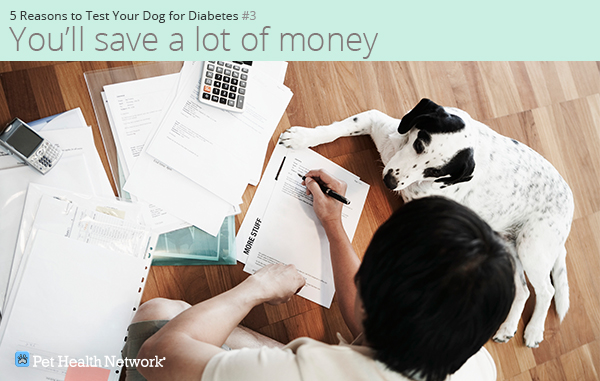 4. You'll have less urinary accidents in the house
One of the biggest signs of uncontrolled diabetes mellitus is excessive drinking, urination and having urinary accidents in the house. Because of the hyperglycemia, dogs are also at increased risk for urinary tract infections, wrecking havoc on your carpet. The sooner you can treat your dog with insulin and get the diabetes controlled or regulated, the less your dog will drink and urinate, making your dog more comfortable too!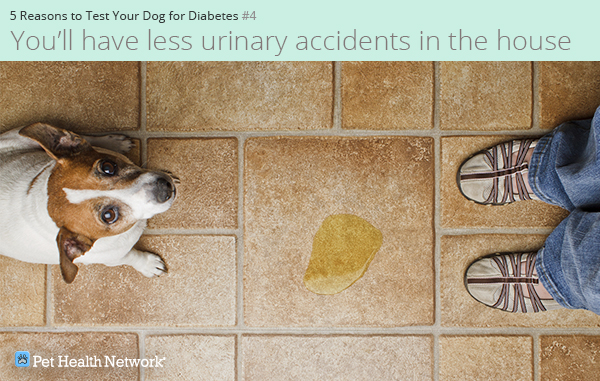 5. You'll have more peace knowing that your dog is healthy
As a
veterinarian
and dog owner, I want to make sure my dog is as healthy as possible. You might already be talking with your veterinarian about
vaccines
each year in a dog that is older than 7 years of
age
; next, talk to your veterinarian about doing an
annual exam and routine blood work too
. It'll pick up on medical problems sooner, so you can rest assured that your dog is going to live a longer, happier, healthier life!
Having a diabetic pet is also a big commitment, as it requires dedicated pet parents who can give twice-a-day injections of insulin. Caring for a diabetic dog does require frequent trips to the veterinarian to regulate the blood sugar. That said, dogs can live with diabetes for years with appropriate care and treatment. When in doubt, make sure to monitor your dog carefully for the signs of diabetes, and seek veterinary attention sooner rather than later to help test for this ever-growing problem!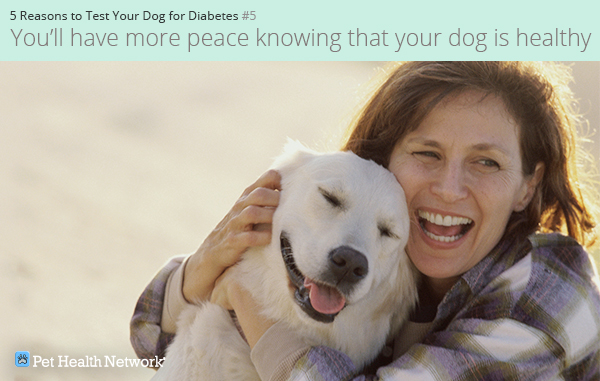 If you have any questions or concerns, you should always visit or call your veterinarian -- they are your best resource to ensure the health and well-being of your pets.
References:
Reviewed on:
Wednesday, September 23, 2015