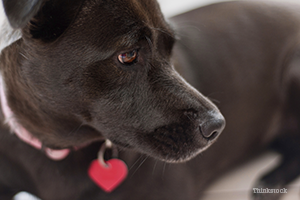 We love our fur children and want to make sure we're doing everything we can as pet parents to keep them happy, healthy and most importantly—safe.
Even with all the new technology to help us find lost pets, such as microchips and the awesome new app, Finding Rover, we shouldn't forget about old school methods, like your pet's identification tag.
The first thing you probably got for your four-legged friend, or maybe even before, was a collar with an ID tag that says "Penny" in the shape of a pink bone. How adorable is that?
Unfortunately, this seemingly obvious identifier could be a mistake. When you put a name on the tag, everyone your dog comes into contact with will know the name. It would be helpful for someone with good intentions, however, a person with less noble intentions could use that information to entice your pup away.
So what should you put on your pet's ID tag?
For advice, I reached out to Mychelle Blake, certified dog trainer. Here are some safe options to include on your pet's ID tag:
Your cell number and any other family member's
Your address—oftentimes when a dog gets loose, she could still be wandering around the neighborhood
"I'm microchipped!" (if applicable)
"Help, I'm lost and my family is probably very worried! Please call them."A personal touch is always nice
Here's to hoping your pets never get lost, but just in case, it's always a good idea to be prepared!
If you have any questions or concerns, you should always visit or call your veterinarian -- they are your best resource to ensure the health and well-being of your pets.