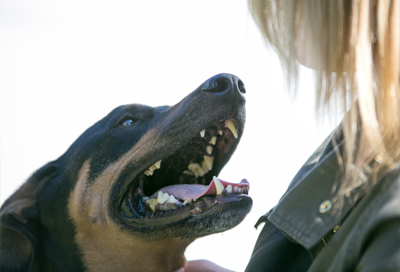 Lyme disease, and tick diseases in general, are an epidemic for dogs according to many veterinary parasitologists. What's more? Dogs are sentinels – so in places where dogs are sickened with tick disease, it's a safe bet that people will be too. In many ways, when it comes to tick disease, pet medicine is actually well ahead of human medicine. In fact, while the human medical community, at times, struggles to diagnose tick disease, it's simple to detect the presence of antibodies (for Lyme and various other tick diseases) in dogs.
Arguably, tick disease is also more on "top of mind" in veterinary medicine than it is in human health.

It's a situation that didn't make sense. After all, if a dog is diagnosed with a tick disease, there is likely a person at the other end of the leash – sharing the same environment. There's good chance then that at least one family member might be at risk. Similarly, if a family member is identified with Lyme, perhaps the doctor should ask, "Do you happen to have a dog?"

Dr. Ron DeHaven, AVMA CEO agreed that, "More today than ever, we live in the same environment as our pets, and this can be especially true for our children. If Lyme disease is diagnosed in a person, it's very possible that the family dog has also been exposed, and visa versa."
    
What is the Stop Lyme One Health campaign?
Stop Lyme One Health is a public awareness campaign that includes support from the American Veterinary Medical Association and the non-profit Global Lyme Alliance.

As DeHaven says, "By focusing on disease in animals, we can impact human health as well. This is the basic concept of One Health – that the health of people, animals and the environment are inextricably linked. This is also consistent with our mission statement at AVMA: The mission of the Association is to lead the profession by advocating for its members and advancing the science and practice of veterinary medicine to improve human and animal health."  "It's vital we work alongside physicians to enhance the understanding of diseases affecting human and animal patients," he adds.

Kicking off the Stop Lyme One Health campaign
Chicago veterinarian, co-owner of Blum Animal Hospital, Dr. Natalie Marks; and pediatrician and infectious disease specialist Dr. Patricia DeLaMora in New York City recently completed a national satellite TV tour to kick off the campaign.

"There's a huge overlap between dogs and people – especially children," said DeLaMora, who has a Pug and two children. "Working with veterinarians on this initiative makes perfect sense," she says, "And of course public awareness regarding tick disease is very important."

Currently, we can do more to protect our dogs than we can ourselves. "That's scary," said Marks, who has three children. "My pediatrician has never spoken to me about tick disease – hopefully we can change that."

Marks added, "It's true we can protect our pets with many effective products, and there's even a Lyme vaccine for dogs – but none of this is available for people." DeLaMora added, "Not talking about it (tick disease) helps no one. For sure, we need to encourage further research and to pay attention to what's happening in the environment. Another reason why paying attention to dogs matters."

Stop Lyme One Health can help everyone
Merck Animal Health is supporting this campaign – but it's not so much about selling product as it is about doing what's right. Here's what I mean:

While attending the Western Veterinary Conference in Las Vegas, in March, I met a veterinary technician from upstate New York. We were chatting about my idea to launch the Stop Lyme One Health campaign. She began to weep. "I love being a veterinary technician," she said. "But I may have to leave my job because I just no longer have the strength. I was diagnosed with Lyme. In some ways, I'm no longer the same person I was. And I've learned I'm hardly alone."

She hugged me, and added, "You will definitely help dogs, and I bet will do even more to help people."

Learn more on my site: www.stevedale.tv and at www.stoplyme.com.
If you have any questions or concerns, you should always visit or call your veterinarian -- they are your best resource to ensure the health and well-being of your pets.
Reviewed on:
Wednesday, November 30, 2016