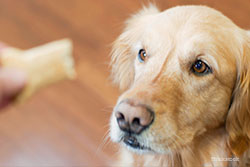 You may have been noticing recall alerts from the Colorado based pet food company "I and Love and You". However, this isn't all that recent. According to the company's voluntary recall notice, the product listed below was pulled back in July due to possible Salmonella contamination.
The product recalled was:
Cow Boom! Strips Beef Gullet, 2oz, UPC #8 18336 01134 4, Lot numbers ending in 4T1 or 5T1 with a "best-by" year of 2016 or 2017.
Why now?
After seeing several media outlets who were covering this recently, I reached out to the company and spoke to a representative who explained why the recall was coming to light now.
She explained in July, when the recall initially happened, the FDA had failed to publish the press release. It wasn't until Wednesday of this month when the FDA issued their press release on the product.
Other products recalled in July
Possible Salmonella Contamination Prompts Pet Chew Recall >>

Pet Food Recalled after Salmonella Concerns >>
If you are concerned you may have purchased the recalled item, visit the company's recall notice for more information.
Click here to learn more about Salmonella and the dangers >>
If you have any questions or concerns, you should always visit or call your veterinarian -- they are your best resource to ensure the health and well-being of your pets.
Reviewed on:
Friday, September 25, 2015