She will travel a total of over 4,600 miles; her journey remains a mystery

This story was selected for our series: "Top Stories of 2014."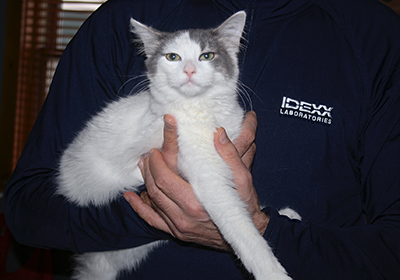 We all know that cats can be very curious, but you have to wonder just how curious a cat would need to be to travel from Albuquerque, New Mexico to Portland, Maine in only 5 days time. That's over 2,300 miles! It would be an amazing feat for a grown cat, let alone a 6-month-old kitten.
The story of Spice
On November 5th, Spice the cat was found outside of the Catholic Charities Maine Thrift Store in Portland — in a duffle bag full of kitty litter and cat food. Bob Watterson had moved the bag inside, assuming it was filled with donations, that's when he noticed it moving, reported the Portland Press Herald. With no sightings of tags or a collar, Watterson took the cat home and eventually brought her to the Greater Portland Animal Refuge League in Westbrook after she exhibited signs of stress.

ARL has been taking good care of Spice since then. She was diagnosed with (and has been treated for) an upper respiratory infection – a kitty cold.

Patsy Murphy, the executive director of the Animal Refuge League explained to Scott Stump of Today.com, "We have been around 103 years, and I will tell you this is the first time an animal has arrived at the shelter from anywhere further away than a 100-mile radius. What are the chances?"

Stump reported that once the animal shelter discovered Spice's microchip, they contacted HomeAgain, a company that handles microchip data. They were able to get in touch with Spice's guardian in Albuquerque. The guardian, who wishes not to be identified, was "floored," and "absolutely stunned." She told Murphy that, "she doesn't know anyone in Maine and has never been here, so she had no idea how the cat got here." There is little doubt that had Spice not been microchipped, finding a guardian so far away would have been impossible. Click here to learn more about these amazing devices.

While elated that her cat was found, the guardian could not afford to get the cat back home. Here's where the story took yet another amazing turn.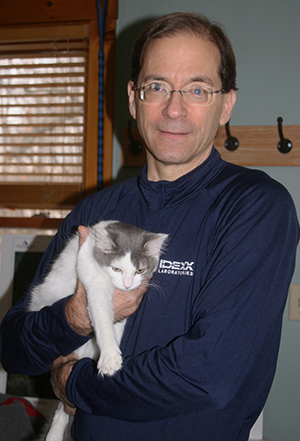 How will Spice get home for the holidays?
When Jonathan Ayers, President and CEO of IDEXX Laboratories read the story, he was inspired to help. He has four rescue cats of his own and through IDEXX he already had a relationship with the Animal Refuge League.
"IDEXX has a long standing relationship," said Jon Ayers, "They do a fabulous job as a shelter… we help them by funding veterinary care that they provide foster pets… It's an important part of our giving back to the local Portland community."  

Jon quickly reached out to the Greater Portland Animal Refuge League and offered to cover the cost of getting Spice home. Spice's story became personal right away. He could tell that she wanted to go home. "It was just nice that I could be able to complete the miracle of Spice and reunite these two."
    
Spice's cold kept her in Maine until it was resolved, but now that she's healthy, Spice is flying home on December 4th. Southwest Airlines, also moved by the story, is providing complimentary airfare, an FAA approved cat travel carrier and a seat for Spice in the main cabin. Spice won't be traveling alone either. Companions Patsy Murphy and Jeana Roth (Community Relations Manager of the Animal Rescue League) will be joining her.

Jon Ayers will cover all other related costs of travel for the trio and, to ensure the best possible care for Spice, IDEXX will sponsor six months of free diagnostic testing once she is returned to her family in New Mexico. 
The full story of Spice's journey from New Mexico to Maine will likely never be fully known, but the lessons are clear enough. "The lesson from Spice's happy ending is that microchipping, regular preventive care and the bond between pets and owners are all extremely important," said Jon Ayers. Click here if you want to see how preventive care can help save your cat's life.

Of course, other cats may not be as lucky as Spice. Thousands remain in shelters across America just waiting for a loving home of their own. Please consider adoption so that you can be a hero to a cat just like Spice. Click here for some great reasons to adopt a shelter pet.
More of 2014's top stories:
If you have any questions or concerns, you should always visit or call your veterinarian -- they are your best resource to ensure the health and well-being of your pets.