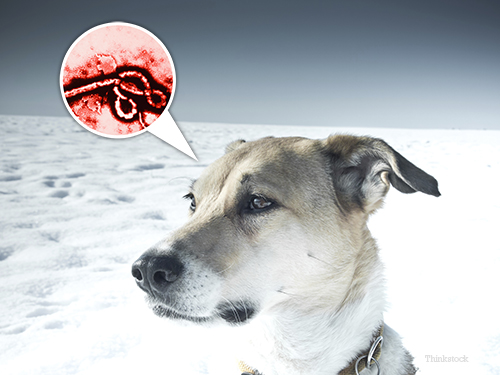 Update: Dylan Stableford reported on Yahoo News that despite protests from animal rights groups, Excalibur has been put down as of Wednesday afternoon. Many will feel this loss. We can only hope that as knowledge of Ebola progresses other people and dogs can be spared.
This week, a Spanish nurse's aide became infected with the Ebola virus, reports NBC News. This is the first suspected case of Ebola that was contracted outside of West Africa. Exposure was thought to occur after she worked with a Sierra Leone-based missionary, who was flown to Madrid for treatment (but later died of Ebola)1. Since then, there has been panic in Spain, due to the risk of a possible countrywide Ebola outbreak and further exposure to the European Union. According to usnews.com, this case has even affected Spain's stock market and tourist industry (including the airline and hotel industry). Unfortunately, this panic has spread to even our four-legged friends, and the potentially fatal debate of whether or not to euthanize "at-risk" dogs exposed to Ebola.
Madrid's government says it will euthanize dog exposed to Ebola
Earlier this week, Madrid's government said that it would euthanize Excalibur, the dog of the affected worker, to prevent possible zoonotic spread of Ebola1. This has resulted in public outcry about the euthanasia of this 12-year-old dog, mixed breed dog.

Since then, Javier Limón, husband of the affected nurse's aide and one additional Spaniard nurse have been moved into isolation. That left the dog alone. Currently, Excalibur is isolated at home. He was left with access to plenty of water and food (Javier left 33 pounds of dog food out for the dog!). The terrace is open so the dog can urinate and defecate, while never leaving the house1.

Thankfully, animal lovers have responded with an online petition and social media blast to help save Excalibur (follow it on Twitter here at #SalvemosaExcalibur). In addition, protestors have been camped outside of Excalibur's home to bar government entry1.
Should this dog be euthanized to prevent the spread of Ebola?
While this virus can be found in many animals (including birds, bats, pigs, rodents, primates, and dogs), the likelihood that dogs spread the disease is very low. Dogs can harbor (i.e., carry) the virus, but are not thought to be affected by it. That said, dogs can potentially spread the disease to humans through bodily fluids (such as licking or biting a human, or through urine or fecal contamination). Dogs can clear the infection at which point they no longer are thought to be infective. (As for cats, there are no reported infections of Ebola in the felid species, so our cats are likely safe!). One study found that dogs do develop antibodies to Ebola, but are likely to be asymptomatic2. For more on the risks of Ebola in pets click here.

Unfortunately, scientists (including medical doctors, virologists, and veterinarians) must learn a lot about Ebola in a short span of time. Right now, the spread of Ebola through dogs is unlikely to be an issue; rather, quarantine in Excalibur's case may be warranted at this time while further studies are conducted.

Protect yourself and your pets from Ebola
While we wait to see how Excalibur's situation resolves, I encourage you to follow these simple hints:

[Editor's Note: The CDC says that the chances of an Ebola outbreak in the US remain very low. We are also not aware of any current Ebola cases in dogs in the US.]
Make sure to avoid contact with stray dogs – or any dog you don't know – to minimize bodily fluid or bites!
Keep your dog indoors, or supervised outside on a leash at all times. Rarely, Ebola virus is thought to be transmitted by scavenging and eating infected tissue. Obviously, this kind of scavenging is rare in the European Union and US, but can be a source of contamination of African dogs that assist in hunting "bush meat" (e.g., primates).
Don't panic. The likelihood of transmission to or from dogs is extremely rare.
In this case, Excalibur did indeed have high exposure to the Ebola virus (an infected pet guardian), but the dog doesn't appear to be showing clinical signs at this time. Hopefully, we can avoid the drastic measure of euthanasia by quarantining. Worldwide culling (i.e., killing) of dogs isn't the answer – rather, appropriate quarantine is imperative.

For more information, visit the CDC's webpage.
If you have any questions or concerns, you should always visit or call your veterinarian -- they are your best resource to ensure the health and well-being of your pets.

References:

1. Brat, Ilan, and Jeannette Neumann. "Fate of Ebola-Stricken Medical Worker's Dog Sparks Outcry in Spain." The Wall Street Journal. N.p., 07 Oct. 2014. Web. 08 Oct. 2014.

2. Allela L, Bourry O, Pouillot R, et al. Ebola Virus Antibody Prevalence in Dogs and Human Risk. Emerging Infectious Diseases 2005;11(3): 385-390.
Reviewed on:
Wednesday, October 8, 2014