Dr. Ernie Ward tells the miraculous story of Shrek, a brave little escapee from a puppy mill that just happened to visit the right farm at the right time. Visit Dr. Ernie at www.DrErnieWard.com or on Facebook.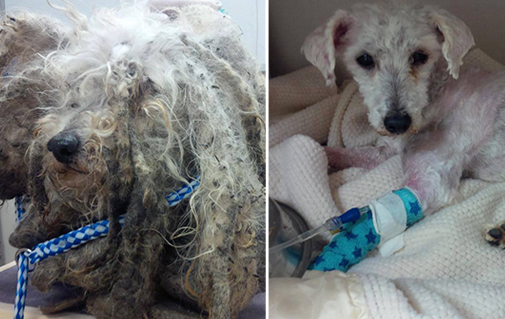 All the ugly in world can't hide the beauty within.
It had rained all night. A cold, hard, mid-October Canadian rain. The kind of rain that seeps into your bones and quietly coerces you into staying in your warm bed just a little longer.
Regardless of the weather, life on veterinarian Dr. Brenda Gough's farm goes on.  So on a recent early Wednesday morning her husband began his usual pre-dawn morning chores. As he made his rounds that icy morning, he spied what he thought was a "dead animal carcass or a pelt some wolf had dragged up." He gave it little consideration until the ball of fur moved. He cautiously approached the thing when it tumbled toward him. Not knowing what to do, he called his wife. "What kind of animal is it?" Dr. Gough asked. "Don't know. Something furry -- I think."   Dr. Gough instructed her husband to bring the animal back to the house. "Don't know how. I can't tell front from back." was the response. So, as in millions of homes around the world, it was Mom who had to do the dirty work.
When Dr. Gough arrived, she couldn't believe her eyes. "Most veterinarians have treated a severely matted animal during their career. This was beyond matted. It looked alien; an unknown species. I hope I never see anything like it again."
Dr. Gough called out to the animal. The pile of mud and fur rolled toward the sound of her voice. It was at that moment she realized the matted thing was a dog. Her heart began to sink. "It could barely walk. I had no idea how it made it to my farm miles from the nearest house. All I knew was it needed help."
She gently picked up the dog and sped to her veterinary clinic, Park Road Veterinary Clinic in Brantford, Ontario. "The smell was horrific. Everyone ran to the treatment area to find out what was going on." No one could understand how this could happen to a dog. Without further discussion, the veterinary team went to work.
When they were done, they had removed over three-and-a-half pounds of matted fur. Underneath the cocoon of crud was a small, scared,white dog. A dog that realized its life had changed forever.
The team settled on the name "Shrek" after the cartoon ogre with the heart of gold. They quickly sent out email and social media alerts to try and locate where the dog had come from. Local news crews picked up the story. Well-wishes and donations poured in. And then something totally unexpected happened.
SPCA officials received a tip that there was an illegal puppy mill near Dr. Gough's farm. Investigators discovered 12 dogs living in deplorable conditions. No one knows for sure if Shrek escaped this breeder or was simply a catalyst for someone to come forward and reveal the horrible dog-breeding operation. Regardless, today there are 13 dogs better off.
I spent time with Dr. Gough and Shrek in Toronto. The scars of Shrek's hard life are still visible. It will be a considerable challenge for Shrek to ever truly trust humans again. What moved me most was, despite all the abuse and neglect, the love I saw in Shrek's eyes. There was a palpable feeling of gratitude as I stroked his freshly shorn coat. There was a sense of relief.
As Dr. Gough and I discussed Shrek's rehabilitation, I found my thoughts returning to a simple question: How did Shrek find Dr. Gough?  Of the infinite possible routes, timings and conditions, how did Shrek wind up beside that unmarked dirt road at precisely the right time, in exactly the right place, with exactly the right person?
It was fate. It had to be. Dr. Gough believes Shrek followed the lights on her barn. I believe an entirely different light guided Shrek that night. The same light that shines in every heart of every living thing. Thank you, Shrek, for shining your heart on us.
Watch Shrek's amazing recovery:

This story was selected for our series: "Heartwarming Stories for Your Holiday."
If you have any questions or concerns, you should always visit or call your veterinarian – they are your best resource to ensure the health and well-being of your pets.