10 Tips for Managing Your Senior Cat's Medications
Medications
,
Senior Cats
,
Senior
,
Arthritis
,
Heart Disease
,
Diabetes
,
Digestion
,
Hyperthyroidism
,
Kidney Disease
,
Pills
,
Travel
,
Exams
,
Tests
,
Siamese
Has your tabby transitioned into his teens? Has your Siamese achieved senior citizen status? If so, it's likely that some medical issues have accompanied your cat's aging process. Examples include:
Fortunately, many of these maladies can be successfully managed with long term, if not lifelong, medication. Here are ten tips to ensure that, as a conscientious caregiver, you are doing the best job possible with your cat's medications:
1. Learn as much as possible
When a new medication is prescribed for your senior kitty, talk with your veterinarian to gather answers to the following questions:
What is the medication supposed to do?
What signs of improvement should I be looking for?
Is this medication compatible with other drugs and supplements my cat is receiving, and can they all be given at the same time?
What are the potential side effects and what should I do if I observe them?
Does the timing of administration need to be exact?
Do I need to take special precautions when handling the medication?
What happens if a dosage is accidentally skipped?
Should I give the medication if my cat is having an "off day"— lethargic or not eating well?
How long should the medication be administered? (Just because the pill vial is empty, doesn't necessarily mean that your veterinarian wants it discontinued.)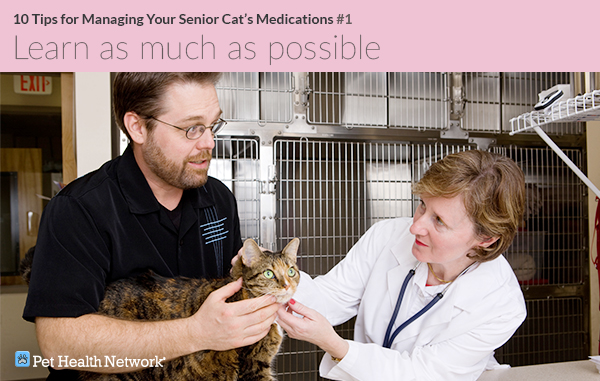 Nancy has more than 30 years of experience in the veterinary industry and is a board-certified veterinary specialist in internal medicine as well as a valued member of IDEXX's Pet Health Network team since 2014.