Caring for a Senior Cat: 7 Healthy Habits
All cats deserve the best of care, but senior cats are in particular need of special attention for their health issues. As cats age, their health requirements change and they need our help to develop life "habits" that take these changes into consideration.
The term "senior" has been chosen to describe the aging/older cat. According to the ASPCA, most cats are considered seniors when they are between 12 and 14 years old. Your veterinarian may use a slightly different timeline.
There are a number of things we can do to introduce healthy lifestyle habits to our cats, and it's never too late to start taking these steps. Pet health organizations like the American Association of Feline Practitioners have already developed some great, healthy guidelines for senior cats, and I have my own tips to offer.
According to the AVMA, as a result of improved veterinary care and dietary habits, "Pets are living longer now than they ever have before." One consequence of this is that pets, along with their guardians and veterinarians, are faced with a whole new set of age-related conditions.
Like people, aging cats are often faced with a wide variety of age-related, life changes and basic healthy habits become even more important with passing time. Take a look at these healthy habits that lead to healthier cats:
1. Keep your senior cat inside
One of the most important habits you can practice to help your senior cat stay healthy is to be sure that she is not allowed outdoors without supervision. Cats kept exclusively indoors live longer, healthier lives than outdoor cats, according to the ASPCA. Even older cats can learn to be happy indoors if you provide them with enriched environments and give them opportunities to be alone.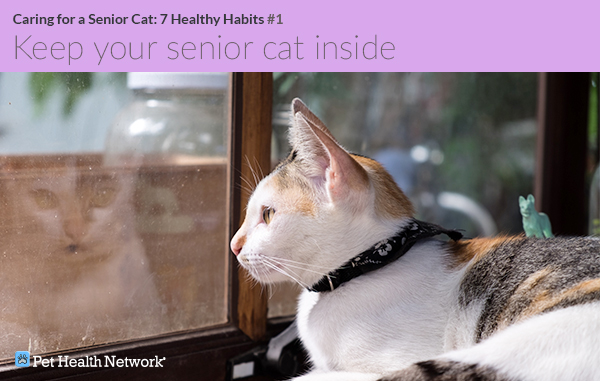 Mike has more than 35 years of experience in companion animal veterinary practice and is a valued member of IDEXX's Pet Health Network team since 2013.