Cats and Cars in Cold Weather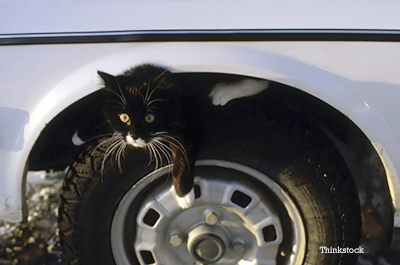 During the cold winter months cats will often seek out any warm space they can find. One particularly irresistible lure seems to be the cozy confines of a warm car engine. Unfortunately, cats that seek shelter under the hoods of cars can then be injured or killed when that car is started. Help keep your own and your neighborhood cats safe this winter by following the tips below and talking with your veterinarian about cold-weather care for cats:
Keep your cat inside
The best advice regarding your own cat is simply to keep him indoors during the winter. You'll protect him not only from engine dangers but also from becoming lost, stolen, or injured. Jane Harrell, Editor-in-Chief of AdvoCats and President of 'cause Digital Marketing, is no stranger to the devastation that can be caused simply by turning a key:  "I've been in the pet industry for thirteen years, and every year there is a story that comes up about a cat that's gotten trapped in a car [engine]. I'm hoping we can share the message about this and help save a lot of cats out there."  To keep your own cat safe, Jane suggests simply keeping him inside during the cold months. "If you allow your cats outside they are more likely to seek a place of warmth, and underneath or inside a car's engine are two very warm spots," Jane says.
Check on your cat before taking any trips
With your cat safe inside, it should be easy for you to check on her before leaving on any trips. Maddie, a seven month old Tabby cat, somehow survived her family's 100 mile long trip in 2009. Maddie was unknowingly stowed away during the drive that lasted for ninety minutes. Her family almost learned the hard way how important it is to check on your cat before any trips are taken. Other cats aren't as lucky as Maddie was. In 2012, a cat named Pebbles barely survived his 15 mile trip. Pebbles needed a couple of jaw surgeries and lost the end of his tail.

Jason has over 6 years of experience in the pet health industry and is managing editor of IDEXX's Pet Health Network team.