Five Questions To Ask at Your Cat's Next Veterinarian Exam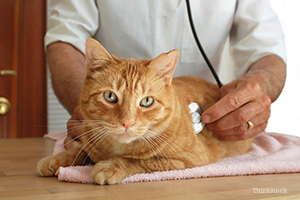 Whenever you take your kitty to the veterinary hospital, it's always a good idea to arrive with a written list of your questions for your veterinarian. You may have a crackerjack memory, but it's easy to become forgetful or distracted in the hospital setting. After your veterinarian is through explaining things, you can reference your list to see if all of your questions have been answered.
What are the right questions to ask? In addition to the questions that pertain to your cat's specific health issues, I recommend asking the five general questions below. By the way, it is important to ask them at each annual visit as the answers may change from year to year.
1. Is my cat at a healthy weight?
While it's unusual for a healthy cat to be too thin, it's very common for an otherwise healthy cat to be overweight. A study by the Association for Pet Obesity Prevention found that 53 percent of cats were overweight. Just as in people, feline obesity predisposes to a number of health issues with diabetes at the top of the list. Veterinarians sometimes fear pointing their finger at the fat felines in front of them for fear of offending their clients. Asking the question yourself will make it easy for your veterinarian to have candid conversation about your cat's body condition.

Nancy has more than 30 years of experience in the veterinary industry and is a board-certified veterinary specialist in internal medicine as well as a valued member of IDEXX's Pet Health Network team since 2014.