Help Your Cat Beat the Heat This Summer!
Summer might just be my favorite season and I'm probably not alone. It's the best time of year for me to enjoy all sorts of fun outdoor activities. While cats tend tolerate the heat a little better than dogs, and even prefer it (we've all seen a cat stretched out on a sunny windowsill), that doesn't mean that you should forget about feline heat risks this summer!
1. Never leave your kitty in the car
This may apply more to the canines, but if you have a vet appointment for your furry feline and decide to make a quick stop at the supermarket-- think again! It can take minutes – yes, MINUTES – for a pet to develop heat stroke and suffocate in a car. Most people don't realize how hot it gets in parked cars. On a 78 degree day, for instance, temperatures in a car can reach 90 degrees in the shade and top 160 degrees if parked directly in the sun (Check out Dr. Ernie Ward's video to see for yourself)! Your best bet is to leave your pet home on warm days.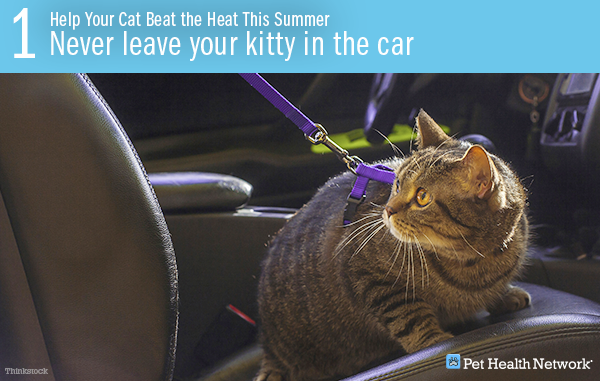 Tori has more than 2 years of experience in the pet health industry and is junior editor of IDEXX's Pet Health Network team.