Why is My Cat Sneezing?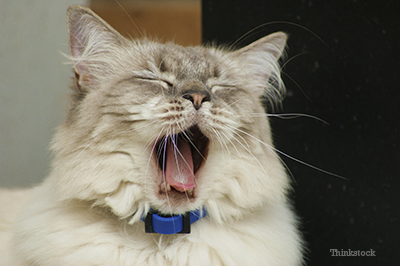 Ever catch your cat sneezing? No fear, the occasional sneeze is not a big deal! When a cat sneezes, he's just releasing high-pressure air from his nose and mouth.
However, if your cat is excessively sneezing (more than just a few times a day or more than a few days in a row), a veterinary visit may be necessary. This is especially important if you notice additional clinical signs besides the sneezing such as:
Squinting of the eyes (which may be due to ulcers of the cornea)
Nasal discharge (typically clear colored but may progress to pus-colored)
Difficulty chewing food (due to ulcers on the tongue and in the mouth)
Drooling (due to ulcers on the tongue and in the mouth)
Bloody discharge from the nose
Inappetance/anorexia
Pink eye signs (e.g., redness of the eyes due to secondary inflammation of the conjunctiva)
Ulcers in the mouth
Dehydration
Swelling around the nose or a miss-shaped nose
What can cause sneezing?
Typically, sneezing may be due to:
Allergens such as dust, pollen, and fur
Foreign material such as grass, small pieces of plant seed, etc.
Upper respiratory infections (e.g., calicivirus, herpesvirus)
Inflammation of the upper respiratory infection (e.g., rhinitis)
Infection in the lungs (e.g., pneumonia) secondary to an upper respiratory infection
Infectious causes (e.g., upper respiratory infections, fungal infections, etc.).
Cancer (often squamous cell carcinoma)

Justine has more than 18 years of experience in the veterinary industry and is a board-certified emergency critical care veterinary specialist and toxicologist as well as the CEO and founder of Vetgirl. She is also a founding member of IDEXX's Pet Health Network team.