Dr. Justine A. Lee, DVM, DACVECC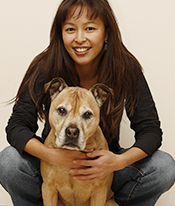 Dr. Justine Lee is a board-certified emergency critical care veterinary specialist and toxicologist. She is the CEO and founder of VETgirl, a subscription-based webinar & podcast service offering online veterinary continuing education. Previously, she was the Associate Director of Veterinary Services at an animal poison control center in Minneapolis, MN and was on faculty at the University of Minnesota College of Veterinary Medicine.
Dr. Lee graduated veterinary school from Cornell University, and completed her internship at Angell Memorial Animal Hospital, part of the Massachusetts Society for the Prevention of Cruelty to Animals (MSPCA). In addition, Dr. Lee completed an emergency fellowship and residency at University of Pennsylvania. Currently, Dr. Lee is one of approximately 450 board certified veterinary specialists world wide in emergency and critical care, and is a Diplomate of the American College of Veterinary Emergency and Critical Care (DACVECC). She is also board-certified in toxicology and is a Diplomate of the American Board of Toxicology (DABT).
Dr. Lee has been published in numerous veterinary journals, including the Journal of American Veterinary Medical Association, the Journal of Veterinary Emergency Critical Care, and the Journal of Veterinary Internal Medicine. She is one of the editors and authors of The Five Minute Veterinary Consult Clinical Companion: Small Animal Toxicology textbook (Wiley, 2010) and the Veterinary Clinics of North America Small Animal: Emergency Medicine textbook (Elsevier, 2013). Dr. Lee has also published several veterinary book chapters, and has been aired on radio and television to promote preventative medicine, animal health, and the overall well-being of pets. Dr. Lee is the author of two humorous pet reference books entitled It's a Dog's Life… but It's Your Carpet and It's a Cat's World… You Just Live In It. Previously, Dr. Lee was the pet columnist for Prevention magazine and blogger at "PetMD's: The Daily Vet."
Dr. Lee lectures throughout the world on emergency and critical care, and recently was honored with "Speaker of the Year" at the North American Veterinary Conference (2011, 2015) and the Association des Médecines Vétérinaires du Québec (2012).
When Dr. Lee is not working one of her many jobs, she is playing ultimate frisbee or ice hockey, hiking with her dog, traveling, or reading. Dr. Lee's three kids include:
A rescued pit bull terrier named Milo
A rescued grey and white tabby cat (abandoned with head trauma) named after a former Bostonian-Irish-owned patient, Seamus
A rescued tortoiseshell cat named Lily – her first ever female pet in her life!
Posts by Dr. Justine A. Lee, DVM, DACVECC
Cat Checkups & Preventive Care

5 "Silent" Killers of Cats

Cat's don't always give you obvious warning signs of a problem. Learn these common killers and how to protect your cat.

Read More >
Dog Toxins & Poisons

Dogs and Mushrooms: Are They Poisonous?

Dwayne "The Rock" Johnson's recent tragedy reminds us just how dangerous some mushrooms can be. Learn what you need to know to protect your dog.

Read More >
Cat Diseases & Conditions A-Z

Managing Treatment of Diabetes Mellitus in Your Cat

Diabetes in cats is often temporary, but only with proper treatment. Lean how your veterinarian can help you deal with this disease.

Read More >
Dog Diseases & Conditions A-Z

Managing Treatment of Diabetes Mellitus in Your Dog

If your dog has diabetes, don't panic. Learn about the treatment that can help him live a long, happy life.

Read More >
Dog Diseases & Conditions A-Z

5 Reasons to Test Your Dog for Diabetes

Did you know that some authorities feel that 1 out of every 100 dogs that reaches 12 years of age develops diabetes mellitus1?

Read More >
Cat Diseases & Conditions A-Z

Feline Herpesvirus 101 (FHV)

Feline herpesvirus is not the same thing it is in humans. Learn the difference, the signs, and your cat's risk.

Read More >
Dog Toxins & Poisons

This Popular Peanut Butter Ingredient Could Kill Your Dog

It's a deadly toxin and one that most pet parents don't know about. Learn what popular peanut butter brands are toxic for dogs, and why.

Read More >
A Vet's Life

Do Dogs Recognize Human Faces?

Have you always suspected that your dog recognizes your face? Well now science is backing you up. Learn what happens inside of a dog's head when they see a human face.

Read More >
Cat Checkups & Preventive Care

What To Do if Your Cat Just Seems Off

There is a term, ADR, that vets like to use when a pet comes in with vague signs or symptoms. The term means, "Ain't Doin' Right." Learn more about this "medical" term and what it means to your vet.

Read More >
Dog Toxins & Poisons

Top 5 Most Damaging Kidney Toxins for Dogs

There are many poisons out there, but which ones spell disaster for your cat's kidneys? Learn what they are and how to avoid them from Dr. Justine Lee.

Read More >
Pages
Connect with friends
Checkout videos and articles you might like, and see what your friends are sharing.