7 Simple Safety Tips Before You Buy Your Next New Dog Toy
How often do we think that it's, "so cute" when our dogs, especially puppies, play with or chew on certain "harmless" objects around the house? Sometimes, we even inadvertently encourage the behavior by making some of these objects into play toys, or, worse yet, giving dogs "toys" that closely resemble household items.
Over the years, I've seen many toys that I would not encourage, including:
Stuffed toys that look just like kid's stuffed dolls and toys
Rawhide chews shaped like shoes
Dental chews shaped like their own, or our own, toothbrushes
There's no doubt it's adorable to watch dogs chew, or as one my dogs loves to do, suck on these toys or dolls, but we have to understand that differentiating these items from other items around our homes that show a close resemblance is not easy for many of our dogs. Additionally, some of these "toys" may not be as safe for our pets as we would like to think.
Safe toy tips for dogs
Much has been written here at Pet Health Network about dangerous pet toys, and now I want to provide some of my own guidelines about how to choose SAFE toys and chews for your dogs to play with:
1. Look for toys that are fairly indestructible
Even for that Pitbull, Mastiff or Rottweiler! Hard nylon toys or hard rubber toys may be the answer. But even with these, watch the edges as they can become fairly sharp. Make sure no large chunks have been broken off, and if so, discard them. Avoid the soft rubber toys.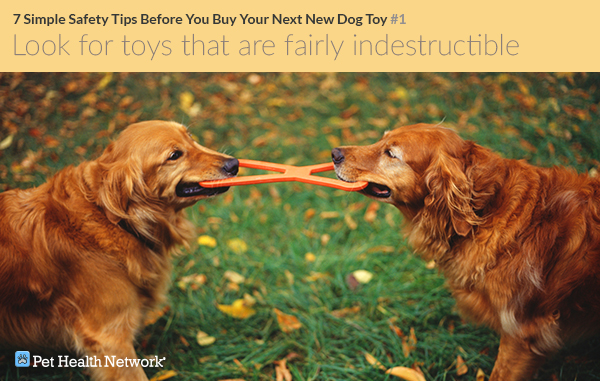 Jeff has more than 30 years of experience in the veterinary industry and is a licensed veterinarian as well as a founding member of IDEXX's Pet Health Network team.