The Dandie Dinmont Terrier
Background
The Dandie Dinmont Terrier originated in Scotland and England during the 1600s. It is believed they were a type of Border Terrier: a cross between Scottish Terriers and Skye Terriers. In the mid-1800s there may have been some interbreeding with the Dachshund to give them longer bodies. The Dandie Dinmont Terrier, like most terrier breeds, was used for hunting. They specialized in badgers and otters.
In 1814, Sir Walter Scott wrote a novel called Guy Mannering and he was so interested in these little terriers that he named a character in his book "Dandie Dinmont." Dandie owned two terriers named "Pepper" and "Mustard" after the colors of their coats.
The Dandie Dinmont Terrier was recognized in 1886 by the American Kennel Club.
Sizing up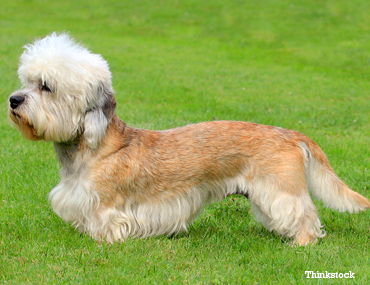 Weight: 18 to 24 lbs.
Height: 8 to 11 inches
Coat: Fluffy and thick, and as long as two inches.
Color: Pepper (dark blue-ish black to light silvery gray) and mustard (reddish brown to a fawn white)
Life expectancy: 12 to 14 years
What's the Dandie Dinmont Terrier like?
The Dandie Dinmont Terrier is a great family dog. He can be tough but when you're friendly to him he's friendly back. The Dandie is more suitable for a home with older children. Despite his size he makes a great watch dog! 
One of the things the Dandie Dinmont Terrier is best known for is his ability to dig large holes in a short amount of time. Training should begin immediately to kick that habit. He can also be trained to get along with cats, but not hamsters or smaller animals as Dinmont natural instincts will kick in.
Health
Dandie Dinmont Terriers are generally healthy, but watch for any of the following:
Canine cancer
Liver shunts
Spinal disc herniation
Takeaway Points
The Dandie Dinmont Terrier is a suitable family dog with older children in the home.
The Dandie Dinmont Terrier can adapt very easily to his living quarters.
The Dandie Dinmont Terrier is very independent, but loves to please his owner.
The Dandie Dinmont Terrier coat does shed. 
If you have any questions or concerns, you should always visit or call your veterinarian -- they are your best resource to ensure the health and well-being of your pets.

Tori has more than 2 years of experience in the pet health industry and is junior editor of IDEXX's Pet Health Network team.
You might also be interested in...