5 Halloween Pet Dangers
Reviewed by Bill Saxon DVM, DACVIM, DACVECC on
Tuesday, December 23, 2014
Dr. Justine Lee discusses Halloween pet dangers. For more from Dr. Lee, find her on Facebook or at www.drjustinelee.com!
Ah, Halloween, one of the busiest chocolate holidays of the year! 
As Halloween night approaches, keep in mind that some human treats can be potentially deadly for your dog or cat. Help keep your dog and cat safe by being aware of some of the common poisons found in your child's trick-or-treat bag this year.
1. Chocolate
If your dog likes to sneak in one or two chocolate mini-bars, it likely won't cause a problem (as there's very little "real" chocolate in candy). However, during this fall holiday, dogs have a tendency to gorge and eat a massive amount of chocolate candy all at once. Keep your candy jar and your kid's Halloween stash away from food-motivated dogs (e.g., Labrador retrievers, mixed-breed dogs). When it comes to chocolate, the ingredient methylxanthine (e.g., theobromine, caffeine) can be poisonous to your dog. (Thankfully, cats rarely develop chocolate poisoning, as they rarely gorge on more than 1-2 pieces.) Mild ingestions typically result in agitation, vomiting, diarrhea and excessive panting. Larger amounts can result in heart-toxicity: abnormal heart arrhythmias (abnormal rhythm), an elevated heart rate, and a very high blood pressure. Massive amounts can result in neurologic signs like tremoring, seizuring, or rarely, death. When it comes to chocolate, keep in mind that the darker and more bitter the chocolate (e.g, Baker's chocolate, dark chocolate), the more poisonous it is to your dog. Click here to learn more about chocolate toxicity.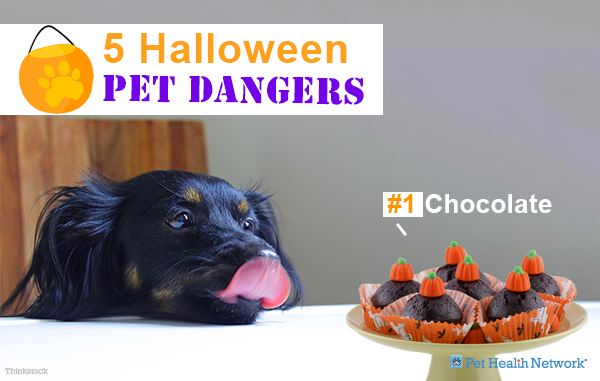 Justine has more than 18 years of experience in the veterinary industry and is a board-certified emergency critical care veterinary specialist and toxicologist as well as the CEO and founder of Vetgirl. She is also a founding member of IDEXX's Pet Health Network team.