Recognizing What's "Normal" In Your Pet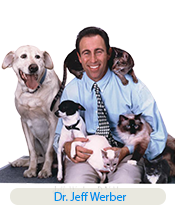 Dr. Jeff Werber discusses what pet parents should recognize as "normal" or "abnormal" in their pets. Symptoms such as weakness, lethargy, and upset stomach could be just be a pet feeling under the weather, but these symptoms could also be very serious and indicate an underlying illness. When in doubt, it's best to check with your veterinarian if you're concerned!
Posted September 05, 2013 in

Jeff has more than 30 years of experience in the veterinary industry and is a licensed veterinarian as well as a founding member of IDEXX's Pet Health Network team.
Opinions expressed are those of the writer:
The opinions and views expressed in this post are those of the author's and do not necessarily represent the beliefs, policies or positions of all veterinarians, Pet Health Network, IDEXX Laboratories, Inc. or its affiliates and partner companies.