Ticks, Dogs and Winter Weather: The Danger is Still Here
Reviewed by Missy Beall, DVM, PhD on
Thursday, January 22, 2015
Dogs
,
Ticks
,
Parasites
,
Lyme Disease
,
Anaplasmosis
,
Ehrlichia
,
Tick Fever
,
Conditions
,
Seasonal Care
,
Winter
,
Prevention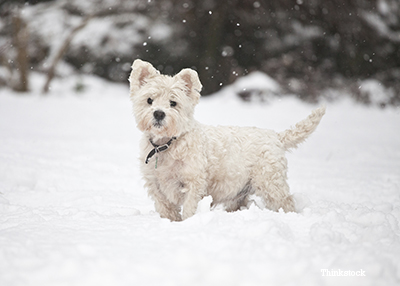 Did you know that ticks are not just a spring and summer problem? You might be surprised to learn that ticks can be found year round, and not just in warmer climates. A 2010 study from the Journal of Clinical Investigation showed that some infected ticks have actually developed a type of anti-freeze glycoprotein to survive the cold. Unfortunately, this means that just because winter has arrived, dog parents cannot let their guard down when it comes to ticks.
Why should winter ticks concern you?
Ticks are found throughout the United States and can spread diseases like Lyme disease, Ehrlichiosis, Rocky Mountain Spotted Fever, Anaplasmosis, Tularemia and Babesia. Lyme disease and other tick-borne illnesses are a significant source of morbidity in people and dogs — in particular, Lyme disease; the CDC says it has been reported in almost every state as of 2013, and its prevalence is increasing in the Northeast, Southeast, and Midwest according to a Parasites & Vectors report found here. Check with your veterinarian about the risk of Lyme disease in your area and click here to view the prevalence maps for Lyme and other tick-borne diseases.
Signs and symptoms of tick-borne illness
The signs and symptoms of tick-borne illnesses depend on the particular illness. For example, Lyme disease symptoms may include:
A painful gait
Swollen lymph nodes
Many other tick-borne illnesses have no signs or take months for symptoms to develop. Since many of these illnesses either have subtle signs and symptoms, or mimic other diseases, screening for tick-borne illnesses is a vital component of a dog's annual exam. If your dog has been exposed to ticks, speak with your veterinarian about screening tests and prevention rather than waiting for symptoms to develop. Click here for potential symptoms of more tick-borne diseases.
Treatment of tick-borne disease
Treatment varies depending on the type of tick-borne illness. Lyme disease is caused by the bacterium Borelia burgdorferi and is treated with broad-spectrum antibiotics. Other tick borne illnesses caused by different pathogens require different antibiotics.
Diagnosis of tick-borne disease
Since many affected animals may not show signs of disease, or may take months to develop symptoms, screening tests are a vital component of a dog's annual exam. These tests screen for the most common tick-borne illnesses, such as Lyme disease, Ehrlichiosis, and Anaplasmosis.

Ruth has more than 15 years of experience in the veterinary industry as a companion animal veterinarian in private practice. Along with being a writer and media personality, she is also a founding member of IDEXX's Pet Health Network team.