Your New Puppy Checkup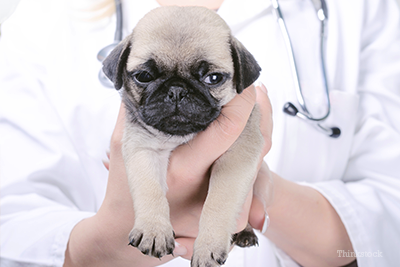 Congratulations! You have a new puppy! If it has been some time since you had a puppy, you may be surprised to learn that, just as with raising a baby, recommendations can change quickly. Much has changed over the last few years when it comes to raising a new puppy. I always recommend that the first outing for your puppy should be to your veterinarian. That way, you're off to a good start and can continue on a path of lifelong health.
What might your puppy's checkup include?
The first thing your veterinarian will likely do is perform a complete, physical examination. Most veterinarians will start using their hands to palpate or feel your puppy from nose to tail. You will notice that your veterinarian will feel the puppy's tummy and listen to the puppy's heart and lungs using a stethoscope. Other visual inspections may include:
Checking the puppy's ears for infection
Checking the puppy's genitals to be sure they are normal
Checking the puppy's teeth and discussing brushing and oral hygiene
Much of what your veterinarian does may go unnoticed. Your puppy's movement and disposition will probably be evaluated too.
What might your veterinarian discuss?
Your veterinarian might discuss preventive health measures such as:
Your veterinarian will probably ask you to bring in a stool sample to check for worms but, because you're bringing in a puppy, de-worming will probably be advised even if nothing is found.

Mike has more than 35 years of experience in companion animal veterinary practice and is a valued member of IDEXX's Pet Health Network team since 2013.