5 Reasons Why Pet Obesity Is a Serious Problem
 Dr. Ernie Ward is the author of Chow Hounds: Why Our Dogs Are Getting Fatter – A Vet's Plan to Save Their Lives (2010 HCI) and Founder of the Association for Pet Obesity Prevention. Visit Dr. Ernie at www.DrErnieWard.com or on Facebook.
Obesity is our pets' number one health threat.
Today's dogs and cats are living longer than ever before. Unfortunately, they're also heavier than ever and have more costly chronic diseases. The good news is that many pet illnesses can be prevented. The bad news is that once a pet develops one of these long-term conditions such as arthritis or diabetes, there's often no cure. I'm pushing for a new era of veterinary medicine focused on preventing diseases rather than simply treating them. When it comes to preventing disease and helping your pet live a long, healthy, pain-free life, there is perhaps nothing more important than what and how much you feed them. Trouble is, we're feeding too much. Way too much.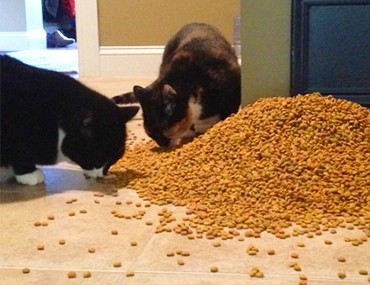 Over 55% of all US dogs and cats are estimated to be overweight or obese according to the latest study from the Association for Pet Obesity Prevention. Flabby felines and portly pooches are the new normal. Heavier pets are prone to a torrent of weight-related disorders. If your pet needs to shed a few pounds, consider these serious consequences of obesity as you're looking for motivation. 
Decreased Life Expectancy
Less is more when it comes to feeding pets and living longer. Eating less has been proven to extend life expectancy and reduce suffering in species as diverse as worms, spiders, water fleas, fruit flies, fish, hamsters, mice, rats, dogs, and monkeys. In a 1999 longevity study conducted on dogs, researchers found dogs fed 25% fewer calories than normal lived an average of two years longer. Even more exciting was that the dogs fed a little less food had a lot fewer medical problems. The study dogs also required fewer medications and remained more active well into "old age." If you're looking for the Fountain of Youth for your pets, it's right there in the food bowl. 
Arthritis
The number one medical condition associated with excess weight is osteoarthritis (OA). Both large and small breeds of dogs are typically affected but cats are developing crippling arthritis at alarming rates. A March 2011 study concluded that the majority of cats (61%) had radiographic evidence of OA.

Ernie has more than 20 years of experience in the veterinary industry and is a well-known veterinarian, media personality and author. He is also a founding member of IDEXX's Pet Health Network team.
You might also be interested in...