Sick Sinus Syndrome (SSS) in Dogs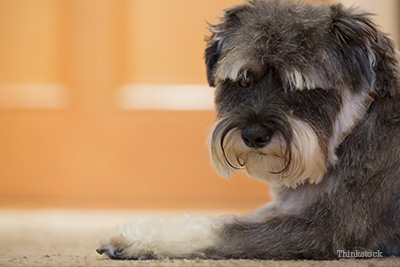 Pay close attention all of you Miniature Schnauzer lovers! The breed you fancy is prone to a heart condition called Sick Sinus Syndrome (SSS). The sinus involved is not within the respiratory tract. Rather, it is a structure called the sinus node that is located within the heart.
The sinus node is responsible for electronically initiating the normal heartbeat and establishing the normal heart rate. In dogs with SSS, the sinus node has lapses in which it discharges (beats much too slowly, or not at all). As a result, there are long pauses in between heartbeats. Sometimes, an electrical impulse originating from another part of the heart will come to the rescue, particularly if the heart has stopped for several seconds. Such rescue beats can be very rapid.
In most cases, the sinus node will eventually resume its job in which case there will be periods of normal heart rate (60-100 beats per minute). Other dogs with SSS have a constant bradycardia (heart rate is too slow). Even with exercise or excitement, the heart rate remains at less than 40 beats per minute.
Cause of sick sinus syndrome in dogs
The exact cause of the sinus node malfunction is unknown. Although any breed of dog can be affected, a genetic basis is suspect because SSS primarily affects Miniature Schnauzers, Dachshunds, Cocker Spaniels, West Highland White Terriers, and Pugs. Middle-aged to older females are particularly predisposed. The mode of inheritance is unknown, and there is no genetic testing available. Nonetheless, the appearance of SSS in a breeding dog should strongly discourage future breeding.
Symptoms of sick sinus syndrome in dogs
A dog with SSS becomes symptomatic because of his subnormal heart rate. The most common symptoms include:
Weakness
Lethargy
Exercise intolerance
Collapse
Fainting episodes (also known as syncopal episodes)
Some dogs with severe, long-standing SSS can develop symptoms of congestive heart failure including weakness, labored breathing and coughing.
It can sometimes be difficult to differentiate between a fainting episode (syncope) and a seizure. Videotaping such an event at home to then share with the examining veterinarian can be most helpful.

Nancy has more than 30 years of experience in the veterinary industry and is a board-certified veterinary specialist in internal medicine as well as a valued member of IDEXX's Pet Health Network team since 2014.