Why Does my Dog Lick So Much?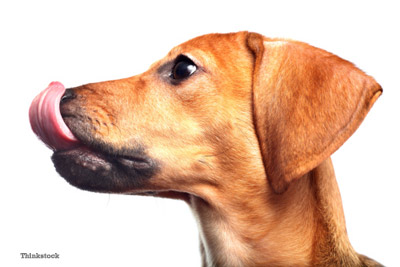 Dogs obviously cannot verbalize how they are feeling to us beyond perhaps a bit of whining or barking, and that's pretty non-specific and really difficult to interpret. If you have a dog that licks a lot, you might be left wondering why.
There are situations where/what your dog is licking can give you a clue that something localized and specific is bothering him. If he is licking between his toes, for instance, it would be logical to check that area to see if there is a burr, a splinter or a sore that he is worrying. If he is licking his tail, or the base of his rump, you might consider a flea problem or an anal gland irritation. In addition, sometimes your dog licks your face in greeting or licks your arms just because.
But, what does it mean if you don't see any logical reason for your dog to be licking and/or he is persistently licking – either himself or inanimate objects floors, carpets, toys or seemingly nothing at all?
Here are some of the reasons for dog licking:
1. Something hurts
This is not always something obvious, like the burr between his toes. It can be because of inflammation or infection in the skin, arthritis pain in a joint, or even a tingling or numb sensation for a nerve problem.
2. Nausea
If you think about it, when your stomach is upset you tend to get a bad taste in your mouth or you produce a bit of excess saliva that can make you swallow or lick your lips. The same is true for your dog, in which case any underlying disorder that produces nausea could cause your dog to lick a lot.

Mike has more than 35 years of experience in companion animal veterinary practice and is a valued member of IDEXX's Pet Health Network team since 2013.