Train Your Pet to Love Grooming and Nail Trims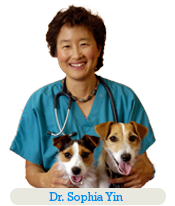 You finally mustered the nerve to carry out the task you've been dreading all week—a must because you're having guests and you want Fido to look his best! Brush in one hand, nail clippers in the other, you hunt for Fido throughout the house. . "I got him. He's over here!" shouts your spouse. The two of you conspire to hold the struggling Cocker Spaniel down to give a toenail trim and groom his mats out but after just seconds you both give up.
Many pet parents are afraid or unable to trim their dog or cat's nails and some are even unable to brush their pets. You might think it's not a big deal; however, these are essential pet care tasks that may need to be performed on a regular basis. Untrimmed or worn nails can snag on objects and tear as well as cause abnormal walking gait. They can even grow so long that they curve around back into the foot causing lameness and pain. Long nails can also cause damage to furniture and can scratch humans who are playing with their long-nailed pets.  Brushing is also essential in pets with long-hair or thick coats in order to prevent matting, help decrease shedding, and prevent associated skin problems.
You might thing you can avoid the issue by sending your pet to the veterinary hospital or groomer to have these tasks done, but many pets are just as bad there and consequently the events are extremely stressful and can get worse with each visit.
Luckily it turns out that both dogs and cats can be trained to allow and even enjoy grooming and toenail trims. The trick is to pair the event with something positive and to train in systematic steps. 
Training pets to love having their nails trimmed
For instance, to train a pet to tolerate toenail trim we want to associate the procedure with good things, such as food. Start with whatever the pet can handle easily. For instance for pets who bolt at the sight of toenail trimmers you don't want to start by pairing a toenail trimming with food. Rather, pair the sight of the trimmers with good things—place them near their foodbowl so the pet has to be near it every day when they eat or put a treat such as canned food, peanut butter, or spray cheese on the nail trimmer handles so

Sophia had several years of experience as a veterinarian, applied animal behaviorist and author. She was also a founding member of IDEXX's Pet Health Network team.
You might also be interested in...