Dr. Sophia Yin, DVM, MS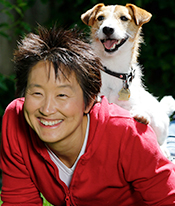 Editor's Note: We were saddened to learn that Dr. Sophia Yin passed away on Monday, September 29, 2014. Her work with this team and pet owners everywhere was inspirational. She will be sorely missed.
Dr. Sophia Yin is a veterinarian, applied animal behaviorist, and the author of many books, including Perfect Puppy in 7 Days, How to Behave So Your Dog Behaves, and Low Stress Handling, Restraint and Behavior Modification of Dogs & Cats (book and DVD). She sees behavior house calls and lectures and teaches workshops on animal behavior, training, and low-stress pet handling in the U.S. and internationally. She writes for a number of veterinary and popular magazines, and for five years running was the award-winning pet columnist for the San Francisco Chronicle. She has consulted for several zoos and served as a behavior expert for TV shows such as Animal Planet's "Dogs 101." Dr. Yin's mission in life is to improve our understanding of animals and their behavior so that we can care for, appreciate, and enjoy our time with them better. Learn more at her animal behavior website, drsophiayin.com.
Posts by Dr. Sophia Yin, DVM, MS
Dog Behavior

How To Break Up A Dog Fight

The number one way to avoid being bitten is to avoid trying to grab the head or neck area.

Read More >
Dog Toxins & Poisons

Scruffy's Easter Egg Disaster: A Case for Training Dogs to Sit Politely Instead of Counter-Surfing

It was Easter Sunday and Scruffy the scrappy fox terrier was having a good day. His family and a few familiar friends were over for some fun, kid-friendly festivities.

Read More >
Dog Behavior

Puppy Socialization and the Sensitive Period: When is it, and is it important?

Dr. Sophia Yin, the Pet Health Network's resident behavioralist, explains how and why we know that socializing puppies is important. Several ground-breaking studies have shown that the earlier socialization starts, the more well-adjusted a dog will become in later years.

Read More >
Dog Surgery A-Z

Can Neutered Pets Still Have Sex?

Learn the surprising answer to this question.

Read More >
Dog Diet & Nutrition

Why Do Pooches Eat Poop?

You might think that such a foul habit points something abnormal such as a nutritional deficiency or that it means Fido's not getting enough to eat, but according to Hart, that's not true.

Read More >
Dog Behavior

Exercise With Your Pet! Turn Playtime Into a Great Workout For You

For those who love to multi-task and spend time with their dog, here is a quick 4-exercise workout you can combine with training and play sessions with your dog.

Read More >
Dog Grooming

Train Your Pet to Love Grooming and Nail Trims

Read More >
Dog Behavior

The Secret to Perfect Dog Training

When I graduated from veterinary school nearly 20 years ago, I knew a lot about veterinary medicine, but very little about finances. The idea of mismanaging funds so worried me that I had visions of being homeless.

Read More >
Connect with friends
Checkout videos and articles you might like, and see what your friends are sharing.