Questions To Ask Before Anesthesia
Kelly Serfas, a Certified Veterinary Technician in Bethlehem, PA, contributed to this article.
Anesthesia can be scary. In addition to understanding the particulars of anesthesia, make sure you understand the real risks for your particular pet by asking following questions of your vet, general practitioner or specialist. Yes, it will take a little bit of time. It may even sound annoying or picky at times… But it is well worth it to ensure the well being of your beloved pet.
1. What are the risks of anesthesia for my pet?
Some pets are ideal candidates for anesthesia, like a healthy 6 month old kitten who needs to be neutered.  Others can present significant risks because of a variety of health conditions: heart murmur, liver disease, infection etc. If your pet has a flat face (brachycephalic breeds such as a Himalayan cat or a Bulldog), there is an increased risk of complications before, during and after anesthesia. Therefore, special precautions should be taken at every step - which you should discuss with your vet. Chubby patients are at a higher risk for anesthesia because they don't breathe well.
2. Will my pet have an IV catheter and IV fluids?
The duration and invasiveness of the procedure will usually determine if your vet will place an IV catheter and give IV fluids. For minor procedures (radiographs, bandage placement, nail trim), it may not be necessary. For others (most surgeries, dental procedures), it is very beneficial to place an IV catheter and give IV fluids. The catheter helps administering anesthesia drugs and pain medications and the IV fluids help maintain proper organ function, starting with the kidneys.
3. Who will monitor my pet?
In a perfect world, all patients under anesthesia would be monitored by a veterinary nurse or technician who has been specifically trained to perform and adjust anesthesia. Even better, this person should ideally stay with your pet during and after anesthesia at all times.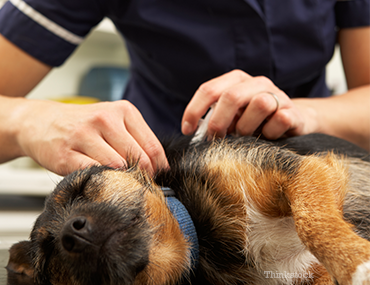 4. How will my pet be monitored?
These days, pets can be monitored almost as well as people. We can track heart beats, EKG, blood pressure, oxygen levels, CO2 levels, temperature, respiration rates and more. The more we know about what's going on inside a patient, the safer the anesthesia is. Now different clinics offer different levels of monitoring. Most clinics these days can monitor oxygen levels.  However, few can track CO2, even though it's a very important