Choosing a Dog Harness for the Car
Dr. Phil Zeltzman is a traveling, board-certified surgeon in Allentown, PA. His website is www.DrPhilZeltzman.com. He is the co-author of "Walk a Hound, Lose a Pound" (www.WalkaHound.com).
AJ Debiasse; a technician in Stroudsburg, PA; contributed to this article.
I wrote this article in January of 2014. In August a colleague of mine shared this terrible story: "One of my surgeries of the day, a 6 month old dog spay, was just cancelled.  On the way to the appointment this morning, the owner had to stop the car suddenly.  The puppy hit the dashboard and was knocked unconscious.  He arrived unresponsive to my hospital and eventually died. Just a reminder of how life can change in an instant."
Domino the Dog
Domino, a 6 year old male Dalmatian, rode every day to work with his owner.  What a lucky dog and a lucky owner!  Domino loved sticking his head out the window. One day, the call of the wild struck, and he jumped out of the window to retrieve an unidentified object. Domino broke his forearm (radius and ulna) requiring orthopedic surgery. Could this injury have been avoided?
Beyond the obvious (closing the car window), there are multiple restraints available to keep your dog from jumping out the window and safe in the event of a car accident. But how do you choose? Are their differences between them? Are they as safe as their manufacturers claim?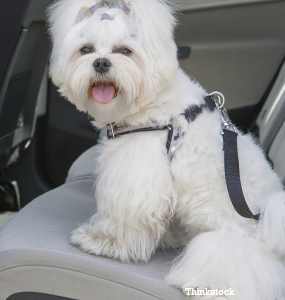 2013 dog harness study
Luckily for dog lovers, the Center for Pet Safety* (CPS) set out to answer this very question in their "2013 Harness Crashworthiness Study."  They had 3 main objectives:
Evaluate and rank current safety harnesses.
Collect harness performance data that could be used by the CPS to develop harness standards and test protocols and ensure harness performance.
Determine the top performing harnesses.
What makes a dog harness safe?
The problem is that there are many different breeds, weights, and shapes of dogs out there so it is not that easy to create a universally safe harness.
Researchers created canine crash-test "dummies" with multiple weights and sizes, as well as a realistic center of gravity.  They equipped each one of them with one of 20 harnesses -- made by 7 different companies.
Key harness safety factors -- in the event of an accident -- were determined to include the following:
Does your furry loved one remain in the car