Dr. Ernie's Top Reasons to Visit the Vet With Your New Puppy
Reviewed by Missy Beall, DVM, PhD on
Monday, December 15, 2014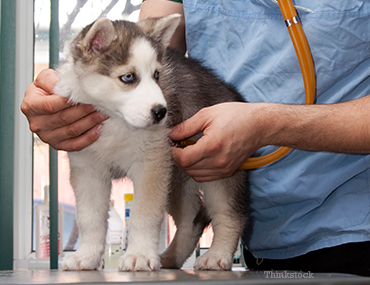 Dr. Ernie Ward discusses the importance of taking your new puppy to your veterinarian. 

Congratulations! Sharing your home with a new puppy is one of the most exciting – and rewarding – relationships you'll ever experience. As a practicing veterinarian for over twenty years, nothing thrills me more than witnessing the unbridled joy and enthusiasm a new pet parent exudes. It's contagious! To help you and your new bundle of bliss establish a lifetime of healthy habits, I've assembled my top reasons a puppy's best friend is your family veterinarian.  
1. Just because I look healthy, doesn't mean I can't be sick.
As a practicing pet doctor, I've learned you can't judge a pet's health by its furry cover. If you've just adopted a young dog from a shelter or purchased a pedigreed pooch, keep in mind that a medical professional needs to check out your puppy as soon as possible and no later than a day or two. Your vet will begin by carefully checking out the heart and lungs for any congenital problems, the eyes for signs of infection or vision problems, and the limbs for any developmental defects.  Your puppy's first physical exam also establishes important benchmarks for future evaluations such as quality and composition of the skin and fur, body condition score, teeth and oral cavity, as well as behavior. I recently examined an adorable Maltese that was hugging and groping Mom as she entered my exam room. Mom recounted how much fun Shelby had been over the past two weeks since she'd brought her home. During my exam I discovered a tiny tuft of hair missing behind her right ear. Mom thought it was from fleas. Wrong. That teeny bald spot turned out to be ringworm! Guess who contracted ringworm on her neck the following week? Both Mom and her husband (who was not too happy). Don't wait two weeks. Problems don't. 
Seeing your vet soon is also important because many viral infections aren't apparent until the infection is advanced. Your veterinarian is trained to spot deadly contagious conditions such as parvovirus, distemper, hepatitis, and more. If there is any doubt a pup may have an infectious disease, your vet will conduct special tests during the first visit. Keep in mind that most of these diseases are highly contagious to other pets. I've seen many entire litters wiped out simply because the owner lagged in getting to the vet quickly. Your pet's first vet check can literally be a lifesaver.

Ernie has more than 20 years of experience in the veterinary industry and is a well-known veterinarian, media personality and author. He is also a founding member of IDEXX's Pet Health Network team.